Have you reached the stage where you need to start thinking about strollers? We hear you, whether for you or as a gift for your best friend; when you are in the market for a baby stroller, you may want to do some research first. You should know that there are different types of baby strollers, and that is precisely what we'll be telling you about.
Strollers for babies aren't as complicated as you may imagine; however, you need to keep in mind; you need to ask questions such as how good is the suspension? What kind of terrain can the stroller take? How does it deal with turns? And what's sort of storage does it have?
However, in a sea of options, models, and different features, buying a baby stroller can seem like you're making a challenging decision that can be compared to buying a car. But don't panic; to help you in the right direction, we invite you to get to know the different types of baby strollers, where to buy them, and more important information.
Types of Baby Strollers FAQ's
At what age can you put a baby in a stroller?
For most, it will be from about 3 months old, or when they can support their own head.
What are the different types of baby strollers?
Full-size strollers: Put simply, full-size strollers do it all. They let you transport your little bundle from day one and have plenty of storage to hold all of the baby's gear.
Travel systems: Some full-size strollers also travel systems, meaning they can attach to an infant car seat to easily transition baby from car to stroller. This also tends to be a budget-savvy way to purchase both a stroller and a car seat; you can also read more about the best travel stroller options to choose from.
Umbrella strollers: Many parents prefer lightweight umbrella strollers for travel or quick errands around town. True to the name, they fold up like an umbrella, making them portable and compact.
Convertible strollers: Some full-size strollers are convertible, meaning they can accommodate one, two, or even three children using additional seating configurations.
Reversible strollers: Also called modular strollers, reversible strollers offer the option to face your baby towards you, which is ideal for smaller babies; or facing out, allowing bigger infants and toddlers to see the world around them.
Jogging strollers: If you'd like the ability to run with a baby, you'll need a jogging stroller for its increased stability and shock absorption. Just note: These options aren't suitable for newborns; usually, the baby can't safely sit in a jogging stroller until about six months.
Double strollers: These baby strollers let you comfortably transport multiple children with two and sometimes more seats, either side by side or one in front of the other. Some of these strollers also offer rides on boards, where older children can stand while you push.
Things to consider when buying a baby stroller?
Lifestyle: Do you live in the city and rely on your stroller to get you everywhere? Or maybe you need something lightweight? The specific realities of your daily routine directly impact what kind of stroller you need.
Family size: Think about your current and future family size. If you only have one child or plan to space children multiple years apart, a single stroller might be just fine.
Space: Consider how much space you have, how many kids you need to accommodate, and if you want your baby stroller to come on trips with you, maybe what you are looking for is a small yet comfortable stroller for your bundle of joy? In that case, you should definitely read about the different smallest folding stroller options to choose from.
Cost: For many parents, it all boils down to the price. Strollers can be costly. Just keep in mind that making the upfront investment in a quality stroller may actually save you money in the long run.
Conveniences/features: You may also want to think about how vital maneuverability and ease of use are to you. If you're constantly juggling a million things, look for a stroller with a one-handed fold.
Accessories. Do you want your baby's stroller to have a storage basket, rain cover, blanket, sunshade, or cup holder? Some strollers aren't compatible with certain accessories.
What are baby strollers called?
A pram is a stroller or baby carriage, a device with wheels that can be easily pushed. Some fussy babies are soothed by a long stroll in a pram.
What strollers are safe for newborns?
If you plan to use a stroller for your newborn, make sure that the stroller reclines; since newborns can't sit up or hold up their heads. Some strollers fully recline or can be used with a bassinet attachment or an infant-only car seat.
Most jogging strollers aren't designed to recline. As a result, they aren't appropriate for babies until about age 6 months.
Types of Baby Strollers
The Baby Jogger City Mini GT2 Stroller provides uncompromising agility on any terrain thanks to forever-air rubber tires that will never go flat and all-wheel suspension.
The signature one-hand compact fold, adjustable handlebar, and hand-operated parking brake provide you with the ultimate convenience, while the adjustable calf support and near-flat seat recline help you find the most comfortable position for your child.
The large UV 50+ canopy will protect the baby from the sun, while the canopy's magnetic peekaboo window allows you to sneak a peek inside.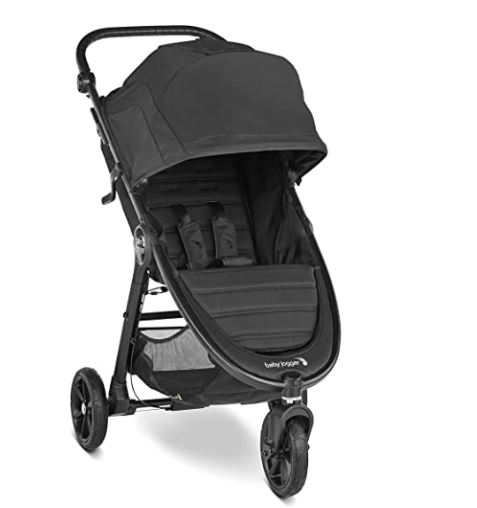 Features:
One-hand compact fold
Auto-lock
Rubber tires
The Graco Modes Pramette Stroller offers you and your child more ways to stroll together, from baby to big kid. It's 3 strollers in 1; Infant Car Seat Carrier, Infant Bassinet, and Toddler Stroller.
The toddler seat converts to a proper pram in bassinet mode for comfortable strolls with your baby from day one. The baby can ride parent-facing or forward-facing for even more options, thanks to a reversible stroller seat.
With this stroller, you have room for everything; comes with an extra-large storage basket, child's tray with cup holder, and parent cup holder and phone holder.
Features:
3 strollers in 1
Reversible stroller seat
One-hand stroller fold
A fully integrated travel system, allowing you to move from car seat to stroller in seconds. The sleek and stylish design will enable you to easily navigate the streets without disturbing your sleeping child when hopping in a car, traveling by bus, or walking up the stairs.
This is the only car seat to have been tested and certified as an infant car seat, a stroller, and an infant carrier, providing overarching safety for your child in all circumstances.
With its unique 3-layer side impact protection, anti-rebound bar crash technology, superior 5-point safety harness, and ergonomic infant insert, Doon is one of the safest car seats available today.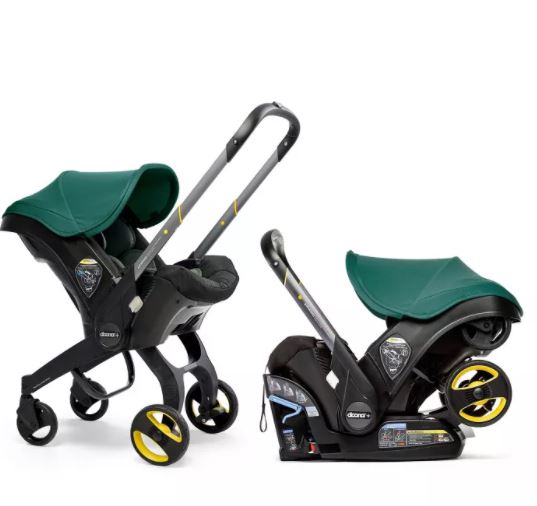 Features:
Rear-facing
Infants from 4lbs. to 35lbs
Removable fabric
The VISTA one-step fold is easy and intuitive. When folded, the stroller stands on its own and can be folded with or without the Toddler Seat attached.
The Toddler Seat Canopy includes zip-out fabric that extends for additional sun protection and mesh panels that make it easy to peek in while adding airflow.
The MESA Infant Car Seat attaches directly to the VISTA delivery of a Performance TravelSystem's ultimate portability and safety. No need to sacrifice performance for convenience.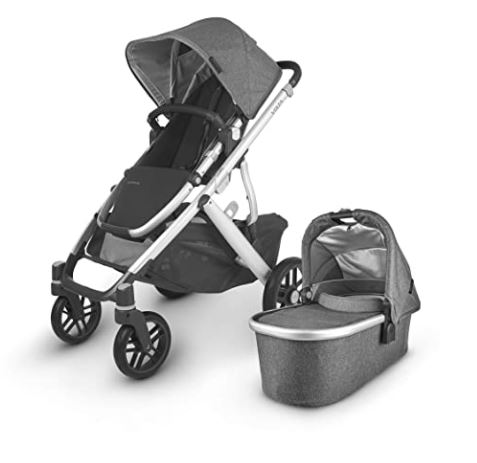 Features:
Leather
Aluminum
Travel system
The suspension system keeps you running smoothly, and the adjustable handlebar fits parents of all heights. The seat is designed with compression padding for all-day comfort and sits fully upright, so your little rider can take in the world.
Comes with a spacious cargo basket and six storage pockets; you'll have plenty of room for all your gear and can keep your cell phone close at hand.
The swivel-locking front wheel maneuvers easily through crowded streets and locks for stability when jogging, while the reflective accents keep you safe on all your journeys.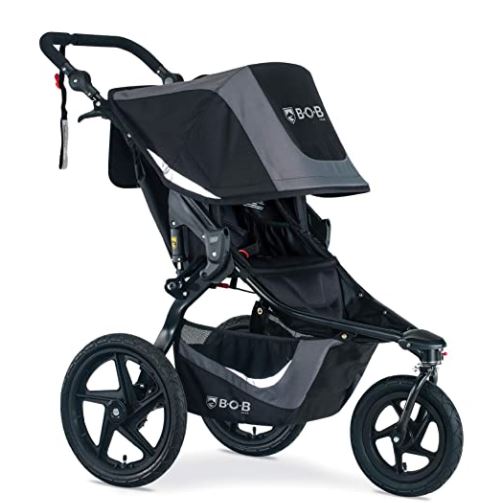 Features:
Smooth suspension system
6 storage pockets
Ultra-padded compression seat
The Baby Jogger City Mini 2 Double Stroller is designed for your newest adventure as a parent of two.
This compact double stroller can nimbly fit through standard doorways and folds up quickly and easily via a one-step fold.
Each seat features adjustable calf support, a near-flat recline, and a UV 50 canopy with a peekaboo window. The large storage basket provides ultimate convenience.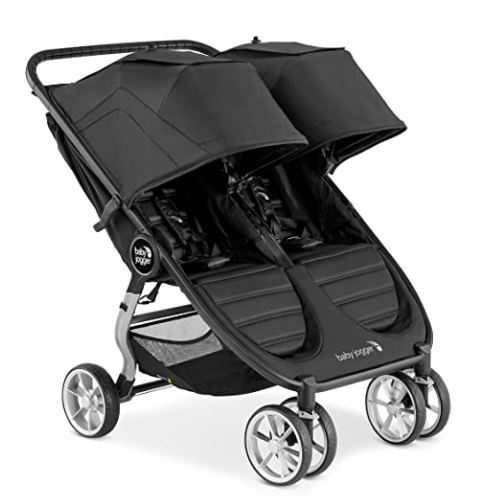 Features:
Near-flat recline seats
Adjustable calf support
From a lightweight infant car seat carrier to a full-size stroller, the removable seat features a one-hand, multi-position recline and the full-coverage, UPF-rated canopy with peek-a-boo mesh window provides privacy and protection from the elements in all 3 modes.
You can expect sleek wheels with treaded tires and all-wheel suspension to navigate uneven terrain. The large storage basket features 2 organizer pockets, mesh sides for visibility, and easy front & rear access.
For additional parent convenience, this stroller has a one-hand innovative fold with auto-swivel front wheels and stands independently on the wheels without the push handle touching the ground.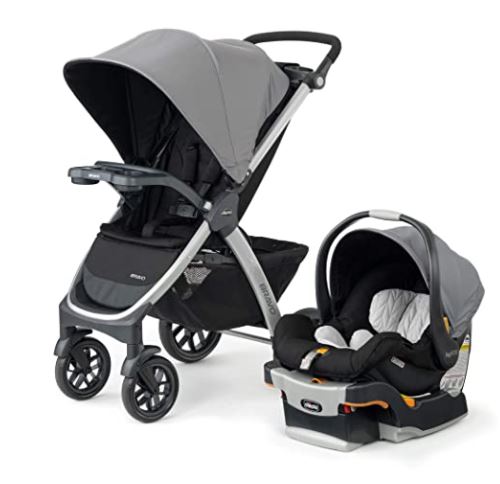 Features:
Removable seat
Smart fold design
Peek-a-boo mesh window