If you consider yourself a hip and modern dad, then a baby carrier is what you need to go out and about with your baby. Truth be told, you don't really need to be a modern parent or to go out to use a baby carrier, for that matter. Baby carriers are one of those baby products most parents like to invest in. So we'll be telling you all about the best dad baby carrier options in the market now.
Baby carriers are super helpful since taking care of your baby is a responsibility that requires both hands, but so is, getting groceries, doing chores at home, etc. Carriers are also helpful for holding your baby when they feel upset and need a little extra attention. Baby carriers are a hit, especially among babies who are fuzzy and demand to be held.
As you can tell. Baby carriers are a great way to hold your little ones while freeing your hands to do what needs to be done. But with many options in the market, dads may find it challenging to determine the best choice. Discover some of the best dad baby carriers currently in the market.
Dad Baby Carrier FAQ's
Why should dad use a baby carrier?
In the past, using a baby carrier may have been seen as a thing only moms used, but the truth is baby carriers have long been designed for both men and women.
Though it is a personal choice for every fella, most dads enjoy joining in the fun of sharing baby duties with the help of a baby carrier.
Thanks to shows and movies like the Hangover, more and more dads usually wear a baby carrier.
How do dads carry babies?
When picking the best baby carriers for dads, you can choose between wraps, slings, soft-structured carriers, and frame backpacks. Different carriers offer different holds, usually front-facing and/or with the baby carried in the back.
Although many baby carriers are designed for both men and women, some have features that men appreciate more.
Which baby carriers are ergonomic?
Most of the ergonomic baby carriers are cloth-based, such as wraps, ring slings, mai tai, ohbuhimo, or soft structured carriers (called buckle carriers) that have a soft adjustable panel.
What do dads look for in a baby carrier?
As you can imagine, dads are much more practical when it comes to choosing a baby carrier; compared to moms, dads want something that suits their needs better.
Something a bit less pink, and also more suitable for our different body shapes. Padded straps or adjustable waist belts work better for daddy sizes, depending on the type of carrier you choose.
Sling fabrics or Mei-Tais are highly popular with moms but are often too fiddly for dads. Instead, they prefer something more solid and straightforward, like a backpack-style or front-wearing, soft structured carrier.
What is the best baby carrier for dad?
The BabyBjorn Baby Carrier One has been considered the best baby carrier for men.
As previously stated, wrap carriers are top-rated for mommy; they're a bit too fussy for the average guy.
The BabyBjorn Baby Carrier One offers all the support a newborn needs and adapts as your baby grows. It's easy to set up, and the varied carrying positions will ensure that baby is just as comfortable as you are while you're ferrying them around.
What should you look for when choosing a dad baby carrier?
Dad's certainly don't care about a baby carrier matching with the diaper bag; for them, it comes down to three simple things:
Comfort
A comfortable carrier is essential for not only the baby but the dad, too. For babies, they need to be in the M-position for the promotion of healthy hip development. This is a natural position for babies, so ensuring they're in it properly will encourage their hip development and decrease the chance of hip dysplasia from forming.
As for dad, he should look for a carrier with lumbar support and padded shoulder straps so he can be extra comfortable while wearing. No matter how long he plans to wear baby, he's going to want those additional features to avoid any back or hip pain from occurring.
Fit
When shopping for a baby carrier, check if the airline itself is stretchy or adjustable. Some airlines provide extenders for plus-size dads, while others, like wraps, are plus-size friendly without an extender.
Take measurements before purchasing a baby carrier to ensure a proper fit.
Longevity
Before investing in a baby carrier, be sure to know how long the page will be likely used or where it will be used.
It will help to look at the weight limit of the carrier and whether or not forward-facing is an option. This gives you an idea of if the page can be used throughout the toddler stages.
Dad Baby Carrier
Baby Carrier One Air is amazingly breathable and lets you carry your baby without getting too hot with unique mesh fabric that is super soft on your baby's skin yet highly durable.
The baby carrier offers you the same babywearing advantages as our cotton Baby Carrier One: closeness to your child while keeping your hands free. It's easy for you to switch between several front and back babywearing positions.
Airy, lightweight, and machine-washable mesh fabric that is soft for the child. Four ergonomic front and back carrying positions: newborn, baby facing-in, baby facing-out, and back carrying.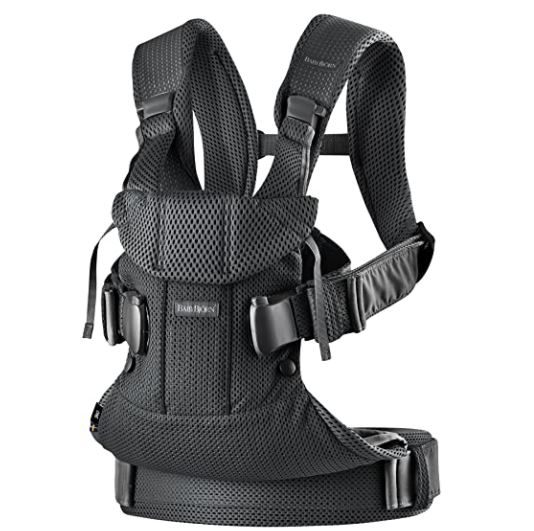 Features:
Polyester
Shoulder Strap
Machine Wash
The breathable carrier is the perfect carrier for any parent on the go. With 2 carrying positions, the baby can face in or out. Use facing out when she gets a little older and can hold her head and neck unassisted.
It is easy and safe to use with the single side-entry buckle and patented automatically adjustable back straps. The vented exterior fabric and the playful interior fabric create a breathable and fun baby area.
While the carrier is machine-washable, it also comes with a removable bib for a little extra protection. The breathable carrier features a little extra padding in the places that count; in the shoulder pads for parents and in the head support and leg holes for baby.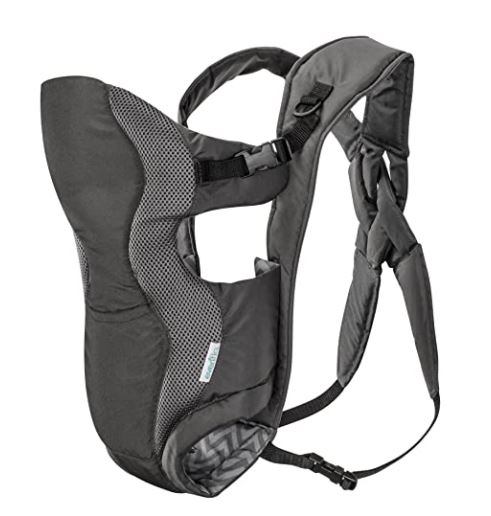 Features:
Breathable mesh panels help keep cool
Removable bib
Easy-clean fabric is machine washable
This counts for an electrifying and cool design. Innovative body panel. Adjusts in three width settings and two height settings to allow for an ergonomic snug position from newborn, infant, and early toddlerhood
Black Lightning baby carrier has this ultra-hip design on the entire carrier, including the inner shell of the carrier and the detachable hood.
Dual-adjustment padded shoulder straps; provide optimal neck & shoulder comfort and offer quick and easy adjustments for multiple wearers.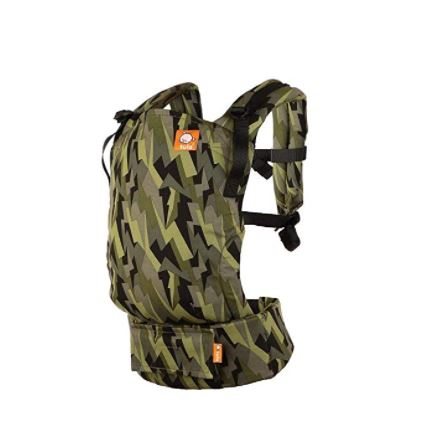 Features:
Innovative body panel
Shoulder Strap
Ergonomic position
This all-in-one, newborn-ready Omni 360 has all the carry positions you need. The Omni 360 grows with your baby from week 1 to 48 months and will support a child up to 45 lbs. You can have it all in this carrier.
With its innovative ergonomic seat that gradually adjusts to your baby, the Ergobaby Omni 360 keeps your baby ergonomically seated in all carry positions (front- inward, front-outward, hip, and back carry).
The carrier ensures your baby is always seated in an "M" shape position. The versatile extendable back panel can be folded to provide head support for your young baby or unfolded, giving your toddler the additional back support needed.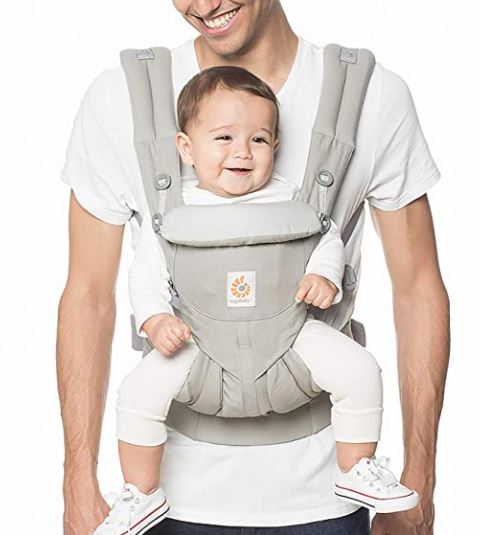 Features:
Detachable storage pouch
Durable
Hip healthy
Breathable carrier with an adjustable ergonomic seat, shoulder straps, and waist belt to shift weight to the wearers' hips for a more comfortable fit with 6 integrated pockets for parent essentials.
Convertible facing-in and facing-out design for newborns and older babies, weighing between 8-40 pounds.
Adjustable 2-position seat, padded shoulder straps, and supportive waist belt, designed to fit a wide range of body types and lifestyles.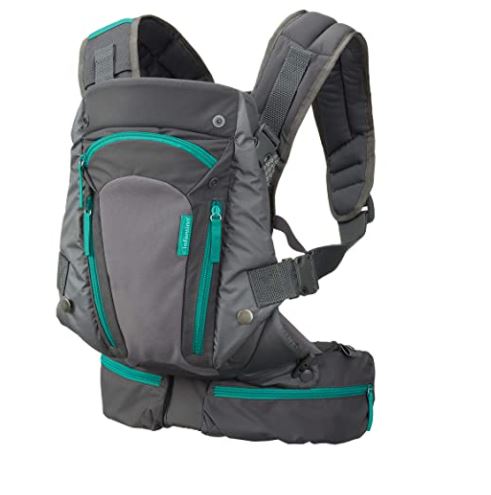 Features:
Shoulder Strap, Adjustable Strap
Machine Wash
6 intuitive pockets
The perfect women's or men's baby carrier with intelligent features, including a removable, washable liner and one-person operation; Made of 600D tactical polyester.
Built to last with durable zippers and buckles, Tactical Baby Gear products are designed to withstand the rigors of everyday use.
Crafted from sturdy 600D tactical polyester, this baby carrier is built to be water-resistant and easy to clean. Simplistic design features a comfortable, open back for temperature control, making it easy to pair with the Tactical Diaper Bag Backpack.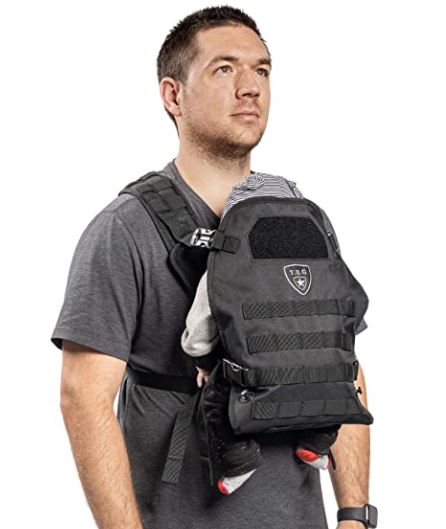 Features:
Tactical, Military-Tough Design
Lightweight
Water-resistant