Wishing to keep your baby close while having the freedom of using both hands? That's precisely why baby carriers were created and are so popular among parents. Baby carriers are practical and highly beneficial for both parents and babies, the reason why they are one of the baby products that most parents look into. But did you know there are different types of baby carriers?
When you're carrying your baby in a wrap, sling, or classic carrier, your hands are free, and you can do your household chores, make a meal or play with your older child. Talk about multitasking! It's also advantageous when you're going shopping, using public transportation, or trying to get through a crowded airport. And how to forget breastfeeding duties.
As you can see, baby carriers have numerous benefits and have become an essential item for many parents. But with so many options in the market, how do you know which one you should get for you and your little one? Discover different types of baby carriers, and feel free to choose your favorite.
Types of Baby Carriers FAQ's
What are baby carriers called?
A baby sling or baby carrier is a piece of cloth that supports an infant or other small child from a carer's body. The use of a baby sling is called babywearing.
How long can a baby be in a carrier?
Experts recommend limiting time in the carrier to an hour at a time. Then give your baby a break so his hips can move around and avoid getting overextended.
What kind of baby carrier do I need?
When choosing a soft structured carrier, look for one that suits your baby high enough so you can kiss the top of their head. This is the safest position. Also, make sure the carrier has a wide or adjustable seat. It helps distribute the baby's weight and keeps their hips healthy as they grow.
What are the five types of carriers?
There are basically 5 types of baby carriers: wrap, ring sling, soft-structured carrier, meh dai, backpack, and other types include the popular Baby Carrier Basket.
Wrap
This is the most traditional and straightforward baby carrier (but not the easiest one, especially for baby-wearing beginners). The wrap is a long piece of fabric that you need to wrap around your body and your baby.
Wraps made of elastic fabric, like cotton jerseys or knit jerseys, are called stretchy wraps. They are an excellent solution for baby-wearing beginners and generally for newborn babies.
Ring sling
This is also a long piece of fabric, usually about 2 meters long, with two rings at one end. To fasten it, you need to thread the free end through one ring and then tuck it under the other ring. This way, you can adjust it to your body and find the perfect snuggle for your baby.
Ring Sling creates a pouch for the baby that comes from one shoulder to the opposite hip. It allows you to wear your baby in front of you or on your hip.
Soft Structured Carrier
Also known as Buckle Carrier, come with padded shoulder straps and a thick, padded waistband that you need to fasten around your waist.
Usually, all straps are adjustable, which allows the wearer to find the most comfortable and ergonomic fit. It also helps to evenly distribute the baby's weight across the caregiver's body.
Meh Dai
Meh Dai carriers, also known as Mei-Tai, look similar to the soft-structured pages, but here you have long pieces of fabric that you need to tie appropriately around your body. There are two shoulder straps and two straps that you need to tie around your waist. So instead of buckles, here we have ties.
Mei-Tai is highly adjustable and can be easily shared between different caregivers; you just need to adjust its tightness.
Backpack carriers
This type of baby carrier is designed for wearing like a backpack, and it can be used only for children who can sit unassisted and have reasonable neck control. Backpack carriers help wear the baby for a more extended period.
Usually, backpack carriers have padded shoulder straps and additional straps that you should fasten around your waist and chest. It's not only more secure for the baby this way but also helps with proper weight distribution.
What are some of the benefits some Types of Baby Carriers offer?
Your hands and arms get a break from doing all the baby-holding work.
Allows you to do other things while keeping your baby close.
Promotes bonding and can help improve postpartum depression and anxiety.
It's easier to navigate through crowds using a baby carrier than pushing a stroller around.
Research shows that babies carried three hours a day cry 43% less overall and 54% less during the evening.
What should you keep in mind before choosing a baby carrier?
Comfort: This applies to both you and your baby. The seat of any carrier should allow your baby's legs to be in the hip-healthy "M" position.
Longevity: If you want a carrier that lasts into the toddler years, you'll need one that can accommodate a higher weight and has front-facing positions.
Ease of use: Getting a wrap on involves a multi-step process, while ring slings and soft structured carriers are easier to put on.
Fit: Some carriers can easily adjust to different caregivers' bodies, while others need to be perfectly sized to one individual.
Care: Babies are messy, but not all carriers are machine washable. Check labels for washing instructions.
Climate: Lightweight fabrics and breathable mesh are best for warmer weather, while heavy knits and padding are perfect for colder temps.
Types of Baby Carriers
Simple, no-guess tying instructions and just one size make this wrap your go-to baby carrier for the first three months of parenthood.
Stretchy and soft, machine-washable fabric that will keep your baby close. So much easier to clean than a stroller or car seat. You can machine wash and dry this wrap, making life just a little easier for new moms.
The ergonomic seat for the baby or babies, if you have twins and what you are looking for, is a twin baby carrier! The Boba Wrap also features a knee to knee support every time.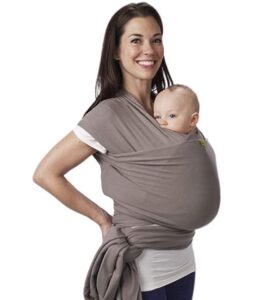 Features:
Cotton
Machine Wash
Ergonomic
Easy to tie
Nalakai ring slings are made from a custom woven blend of sustainably sourced bamboo and linen. The bamboo blend is super soft to care for your baby's sensitive skin, unlike scratchy pure linen.
Nalakai ring slings harness your baby naturally in the m position so that hips can develop appropriately while keeping you and your baby comfortable. The front carries position massages your baby's belly, improving digestion and preventing reflux and colic.
This ring sling baby carrier will keep you and your precious baby comfortable yet cool and won't wrinkle your clothes as much either.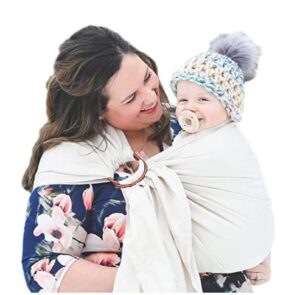 Features:
Regulates temperature
Safest carry position
Eco-friendly
Bamboo & linen
Infantino 4-in-1 convertible carrier comes with an adjustable ergonomic seat, with adjustable shoulder straps and waist belt to shift weight to the wearer's hips for a more comfortable fit.
Convertible facing-in and facing-out design for newborns and older babies, weighing between 8-32 pounds.
Adjustable 2-position seat, padded shoulder straps, and supportive waist belt, designed to fit a wide range of body types and lifestyles.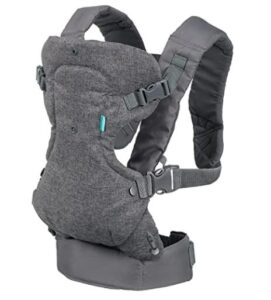 Features:
Durability
Versatility
Support
Quality material
Mei Tais are a quick and simple alternative to people who wish the feel of a wrap, but the structure of a buckle carrier without the buckles Can be worn on the front, hip, and back.
It is fully adjustable for a perfect fit each time regardless of person's shape or size; one size fits all ages and baby stages, from newborn to pre-school age.
Perfectly supports baby in an optimal secure position and provides comfortable babywearing, even as baby grows. Allows for integrating baby care into everyday life, providing a safe and secure place for baby while keeping both hands free.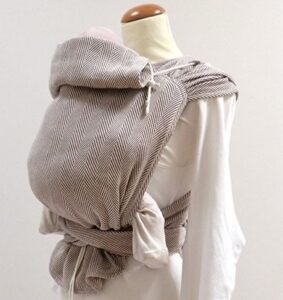 Features:
100% Organic cotton
Non-toxic dyes
Optimal ergonomic position
Your baby carrier has a mesh hood included protecting your baby from the sun's glare. Your carrier has adjustable stirrups to keep their little feet from dangling and kicking you in the back as you adventure together.
Your backpack has been designed to be comfortable for mommy and daddy too. The carrier has excellent suspension, and the weight is distributed very evenly.
The mesh back provides ventilation and reduces sweaty backs, which get very irritating on longer hikes, there are in fact many hiking carrier options to choose from, you might want to check our review on the best hiking baby carrier. And what about when you are not hiking but riding your bike? In that case, read about the bike baby carrier option you can choose from.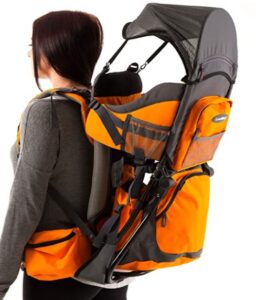 Features:
Polyester lining
Zipper closure
Built to last