On the lookout for the best adjustable high chair? It is an exciting experience seeing your newborn grow and develop through its early stages; however, this incredible experience also requires a whole lot of gear to get your baby through with ease. Part of that equipment includes the best adjustable high chair you can find.
A high chair is an essential baby item that your child will be using for a few years. With that thought in mind, most parents decide early on to go for adjustable high chairs due to their ability to be adapted to suit different areas of the house, plus they can be adjusted as your baby grows, so you don't need to keep buying new equipment.
As you can see, finding the best adjustable high chair is something to be taken with seriousness. With many options in the market, it may seem a bit of an overwhelming task. However, when you know what you're looking for, the possibilities become clearer. Check out below some of the best adjustable high chair options available.
Best Adjustable High Chair FAQ's
What does it mean an adjustable high chair?
These are also known as booster chairs. These chairs don't take up extra space.
Strap a booster feeding chair onto one of your existing dining chairs. These chairs typically come with removable lap trays so that when your child is ready, he can pull right up to the family table. These adjustable chairs are also sometimes called space-saving high chairs.
Why is an adjustable high chair important?
Of course, the purpose of the booster seat is to transition them from a highchair to eating at the table.
Having a high chair with an adjustable height is also beneficial for your baby's growth and transition into toddlerhood.
Adjustable can also mean having an adjustable footstool. Dangling feet while eating is no good for your baby's trunk and core support and stability. Not having proper foot support can cause your baby to be inattentive and less focused at mealtimes.
What are other features you should look for in an adjustable high chair?
Safety harness. This is essential to keep your baby safe from slipping or falling out of the chair by strapping your baby into the chair.
Allows baby to sit at 90 degrees. The golden rule is 90-90-90. This means a 90-degree angle at the hips, a 90-degree angle at the knees, and a 90-degree curve at the ankle with feet flat.
Easy to clean. As a fellow mom, I know that you don't want a high chair with a lot of fabric. To purchase an easy-to-clean high chair, find one that has wood, plastic, or metal frame.
The removable tray is at the level of the baby's elbows. Having your baby's tray at the height of their elbows allows for a good range of motion when eating.
How to know your baby is sitting in the proper position?
They should be able to hold their head upright and steady without tiring.
Their torso should be positioned upright and airway unrestricted. This means their bum and pelvis are placed directly under their hips (at a 90-degree angle).
Their shoulders are angled just slightly in front of the hips. They can also lean forward if wanted and turn slightly to the left or the right without restriction.
Their arms are freely movable and not restricted in any way.
Feet are supported with a footrest appropriate for their height, with their ankles also resting at 90 degrees under their knees!
Best Adjustable High Chair Options
The Montana highchair has wheels to move around. It features a 3-position adjustable footrest and 5-point safety harness, so the high chair grows with your child.
A removable tray can be stored on the back legs. Five-position reclining backrest. Nice soft padded insert quickly wiped clean with a damp cloth.
7-Height adjustable levels. The double removable tray is dishwasher safe – for keeping extra clean.
Features:
7-Height adjustable levels
A removable tray can be stored on the back legs
Five-position reclining backrest
The 360 Degree High Chair by Childcare has an innovative rotating seat that locks into 12 positions. It gives you a choice to swivel the seat so that you can face your baby towards you for one-on-one feeding.
Face baby out to keep them happy and let others entertain them. It is fully loaded with features such as an adjustable and removable tray for easy cleaning.
It has an adjustable footrest for added comfort, and the highchair also grows with your child converting into a stool or a mini stool. It is a stylish modern design with sturdy wood legs and a 5 point safety harness to ensure your child is safe and secure at all times.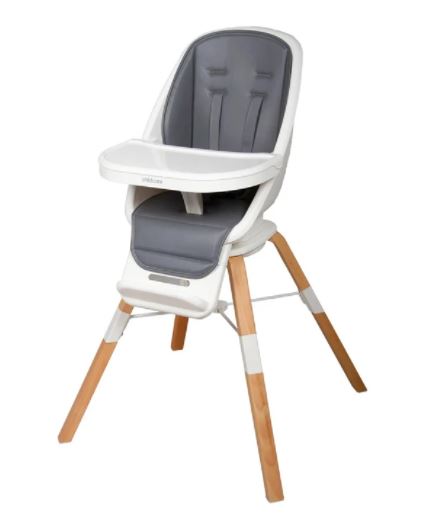 Features:
3 positions adjustable footrest for added comfort
5 point body harness
Removable seat pad
The Aussie Baby Love Plus High Chair offers your child a 3-position food tray and a 5-point safety harness, so the high chair grows with your child.
The leg divider provides excellent safety even when your child is tiny. You can also expect a nice soft padded insert easily wiped clean with a damp cloth.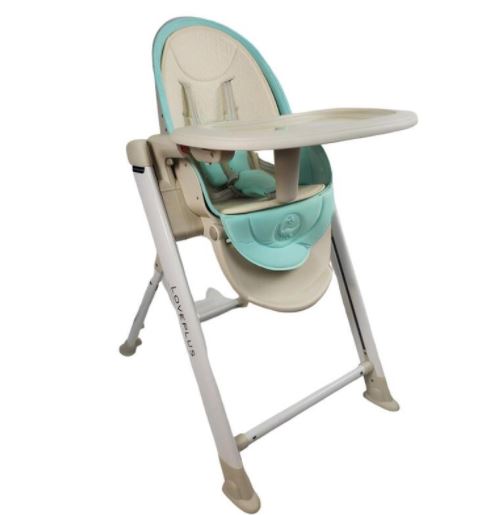 Features:
6-Height adjustable levels
A removable tray can be stored on the back legs
3-position reclining backrest
Save space with this compact folding Star Kids Wooden Foldaway Highchair. This baby high chair has a super easy two-step folding action to fold down to just 20cm flat.
The large wooden tray (45cmx24cm) easily flips right over to the back of the highchair to allow growing babies more freedom after mealtime.
Includes the soft padded cushion and 5 point harness as shown in the pictures. The crotch strap also serves to secure the tray in place.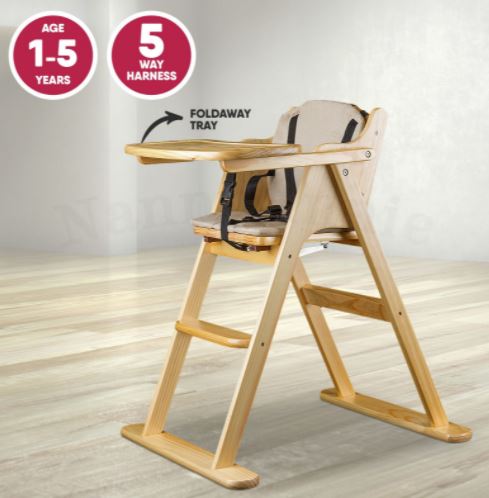 Features:
Foldaway Highchair
Cushion
Harness
Built to grow with your child, the Trio 3-in-1 High Chair from Ingenuity can seat up to 2 children at the same time.
The Trio is fully convertible, transforming from a full-sized high chair to a booster seat to a toddler chair in a flash! You can also read more about convertible high chair options from our article on that topic.
Plus, with an easy wipe construction and a dishwasher-safe tray, cleaning up after messy meals is an absolute breeze.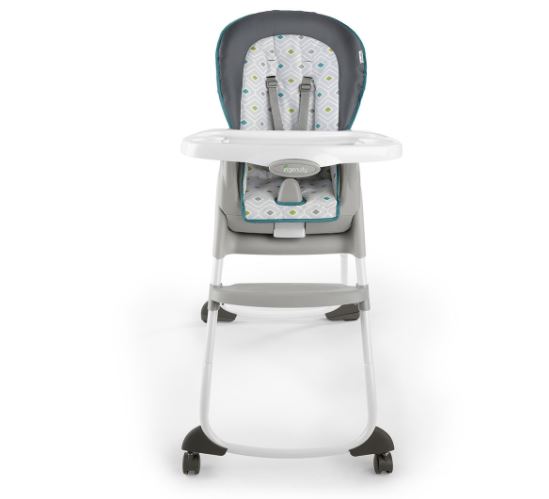 Features:
Adjustable design
Dishwasher safe tray
Plastic/metal/textile
The Breeze Highchair is perfect for any occasion, quickly switching from a high to a low position. It's lightweight and portable and has a sizeable two-position dishwasher-safe tray with a cup holder.
The seat pad is cushioned, removable, and easy to wipe clean, and there's a five-point safety harness.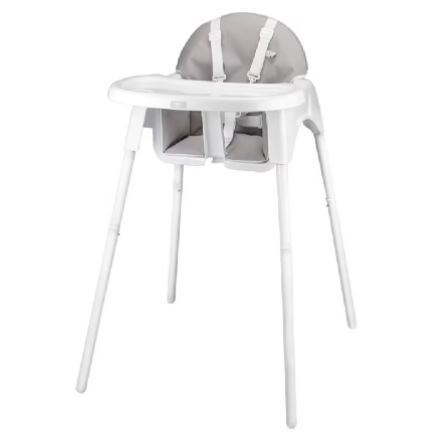 Features:
Portable and lightweight
2-mode use quickly switches from high to low chair
Cushioned
Removable, easy wipe seat pad
Parenting experience meets Scandi-inspired design in the 4Baby Icon 2-in-1 Highchair & Junior chair. This stylish wooden high chair grows with your little one from 6 months to 5 years and comes packed with practical features.
Growing with your little ones from six months up to five years as a junior chair, it has two removable footrests, a five-point safety harness, a wipe-clean surface, and a removable two-layer tray that adjusts to three positions.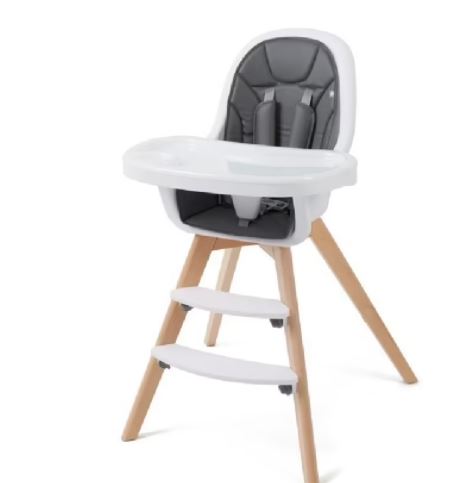 Features:
5-point safety harness
Removable 2-layer tray adjusts to 3 positions
Padded PU seat liner
2 removable footrests