In the search for a bike baby carrier? When you are the athletic type and a parent, we hear you can't help but move around with your bundle of joy. If you can relate, then riding safety is of utmost importance. Thanks to bike baby carriers, you can do so without a worry, so check out below some of the best bike baby carriers around.
If you want to cycle with a child and create an enjoyable cycling experience, bike baby carriers are the type of gear that becomes essential. These child bike seats are specially designed for your kid to be able to tag along with you while you ride. These are ideal for both the daily commute or for family adventures.
As you can see, a bike baby carrier allows your little one to be happy, safe, and comfortable on your bike. But with so many options in the market, how do you know which one you should get for you and your little one? Get to know about the best bike baby carrier and more helpful information below and also read about other types of baby carriers you need to know about.
Bike Baby Carrier FAQ's
At what age can you put a baby in a bike carrier?
Your child, wearing a helmet, can ride in a bike trailer (those little carts with wheels that you pull behind your bicycle) starting no sooner than 12 months old.
Is it safe to ride a bike with a baby carrier?
The American Academy of Pediatrics (AAP) advises parents to be especially careful of instability factors that can occur when a young passenger is strapped onto an adult bike. They also recommend that only children older than 12 months of age sit in a rear bike seat or be carried on a bicycle of any kind.
The AAP also recommends that adults use bike seats with children, preferably in parks, on bike paths, or along quiet streets where heavy traffic is minimum.
Can you put a 6-month-old in a bike trailer?
Not many people bike with infants, and makers of bike trailers and child bike seats recommend you don't bike with a baby younger than nine to 12 months old. A baby's inability to steadily hold its head up and safely wear a helmet. Potentially strong vibrations affect the child's head and neck.
What is the safest way to ride a bike with a baby?
Experts do not recommend babywearing while cycling if you are not used to cycling or babywearing. If you plan to cycle while babywearing, understand that you are doing so at your own risk. You should always use an ergonomic baby carrier, whether cycling or not.
What are the types of Bike Baby Carrier Options?
There are several types, including front, rear, or mid-mounted.
Front-mounted seats are positioned directly in front of the riding adult but have their own seat and harness, making them more suitable for younger children.
Rear-mounted seats are typically larger than front-mounted seats but may have added features such as more adjustability and the ability to transition to a reclining position.
Mid-mounted seats are best for children ages 2 to 5, as most are not manufactured with harnesses and position the child between the handlebars and the riding adult.
How to choose a bike baby carrier?
Determine what type of child bike seat you prefer. (Front, Rear or Mid-mount)
Check your bike for compatibility
Narrow down compatible seats by features
What to look for in a bike baby carrier?
Harness design. There are two styles of harnesses – 3-point and 5-point. 3-point harnesses have shoulder straps that meet at the buckle. 5-point harnesses have shoulder straps and waist straps that meet at the buckle. While both styles of harness comply with safety standards, 5-point harnesses may be safer in certain situations.
Shoulder straps. For optimal safety, shoulder straps on child bike seats should remain firmly on a child's shoulders. While all bike seats have shoulder straps, the design and functionality of the straps vary greatly.
Seat shape. The shape of the seat can make a significant difference in the comfort level of the seat. With front-mounted baby bike seats, seats with a low back force the shoulder straps to originate low on the child's back, which causes the straps to slip off the shoulders during use.
Adjustable footrest. Footrests help to properly support a child's feet and legs on the front and rear-mounted seats. Well-designed footrests offer tool-free height adjustments while comfortably keeping the child's feet secure with wide, locking straps.
Seat suspension. Suspension on a child's bike seat helps cushion the child from any bumps that come up through the bike. Whether going down a curb or riding over a speed bump, the suspension helps to provide a more comfortable ride.
Reclinable seats. Kids often fall asleep while riding in child bike seats. The ability to recline the seat can prevent their neck from flopping around during a ride.
Certifications. In the US, these seats are safety rated to 40 pounds according to ASTM F1625, while in Europe, the standard is 48.5 pounds, according to EN 15918.
Bike Baby Carrier
Take your little one out for a ride with this Yepp Nexxt Mini Child Bike Seat from Thule. Made from lightweight yet sturdy material.
This seat securely attaches to the front of your bike and provides maximum safety and comfort for your child.
Lightweight yet sturdy child bike seat safely and comfortably secures your child to the front of your bike.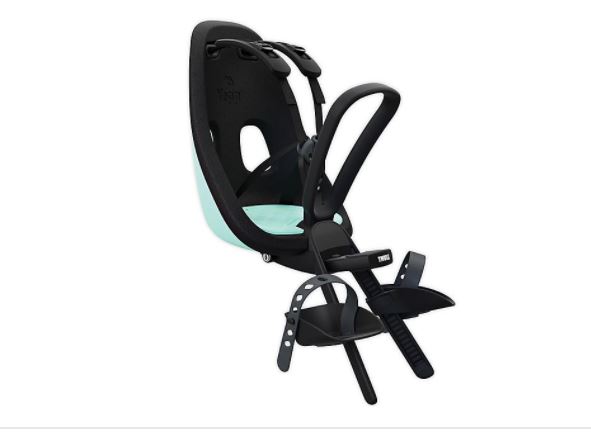 Features:
Adjustable padded 5-point harness
Aluminum construction
Front handlebar
Get outside and stay active as a family with the Thule Yepp Maxi child bike seat. This lightweight rear-mounted kids bike seat allows you to ride as a family on daily commutes or longer biking adventures.
The frame-mounted seat easily attaches directly to the frame of your bike. Designed with an adjustable 5-point safety harness, a childproof buckle, and a shock-absorbing seat, your little co-pilot is will stay safe, secure, and comfortable on any bike ride.
This baby bike seat is built with water-repellent material that is easy to keep clean. Adjustable footrests and straps grow with your child, making it the ideal bike carrier for kids from 9 months – 6 years.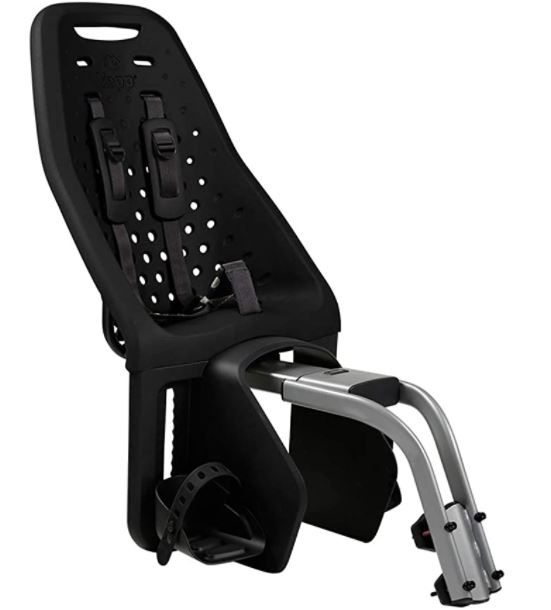 Features:
Rear-mounted
Soft and shock-absorbing
Built-in reflector
A wrap-around seat structure creates a virtual cocoon of protection and features an updated shoulder harness with multiple height adjustment systems.
An innovative suspension system cushions bumps and jolts, and the integrated roll bar provides extra head protection and doubles as a carrying handle.
Adjustable footrests and straps keep tiny feet away from spinning wheels. Child seat complies with stringent European, CPSIA, and Proposition 65 safety standards.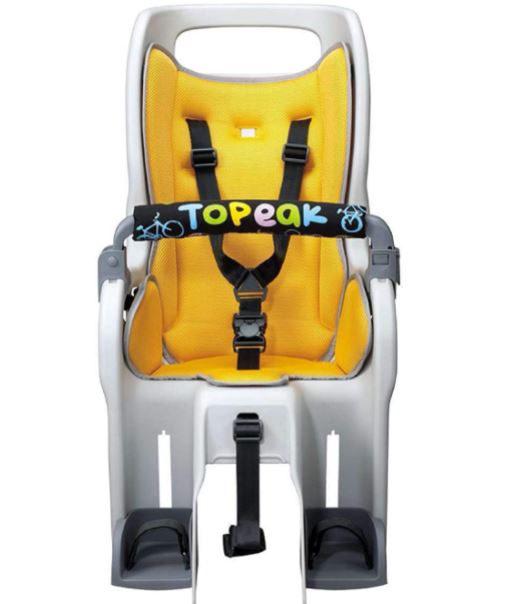 Features:
Wrap-around seat
6-point harness system
Innovative suspension system
The seat mounting system allows you to easily remove the child seat when not in use, so you can ride solo. You can adjust the position of the seat so that it doesn't impede the way you usually ride.
Ideal for children 1 – 3 years old and supporting up to 38lbs, this bike seat has adjustable features to ensure you'll be able to ride with your child as they grow.
The mounting bar system attaches to the stem of most adult bikes. However, some bikes with odd-shaped stems or drop (road style) handlebars will not work.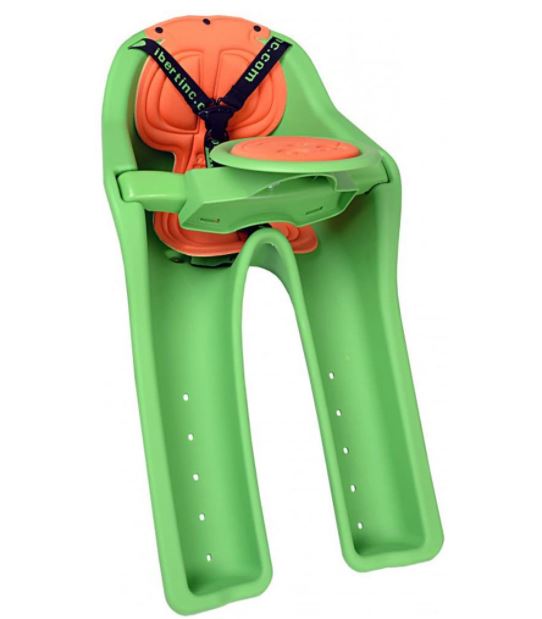 Features:
Safer loading and unloading
Innovative design
Increased mobility
Ride with the ease of knowing your child is safe with the Schwinn Deluxe Bicycle Wheel Mounted Child Seat. This frame-mounted rear bike seat is designed for toddlers and children.
Thanks to a lightweight, polypropylene construction, children ride safe and comfortable close to mom or dad perched on the rear wheel of an adult bike.
Quick-release, five-point harness, leg restraints, and padded cross bar add rider safety while on the road. Assembly is accessible on most adult bicycles with the use of only a screwdriver. A seat spring guard and bike spoke guard shields hands from moving bike parts.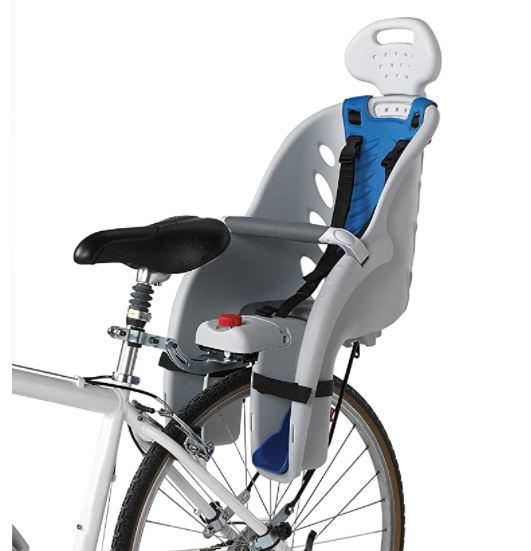 Features:
3 point harness
Leg restraints
Padded crossbar
This iconic bike-only trailer is designed to enable family adventures without sacrificing safety or durability.
This lightweight, nimble trailer features comfortable seating for one or two children, UPF 50+ tinted windows, and plenty of cargo space.
A hammock-style seat means your child is not sitting on the floor of the trailer. Burley's standard helmet pocket and five-point harness system are critical features of the Bee seat.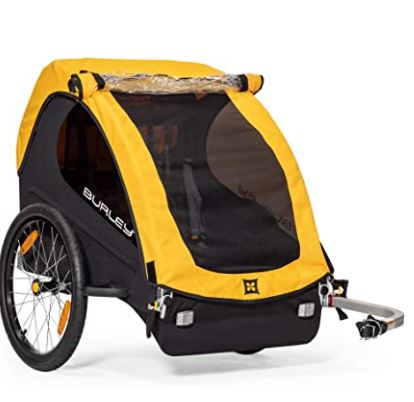 Features:
Trailer folds flat for easy transportation and storage
Rear cargo space
Tinted side windows