Ever experienced several hours of screaming and crying during a road trip with your kid? If you are a parent of a baby or a toddler, then you may know the feeling of desperation while riding with your annoyed child. The key to a successful car ride with your bundle of joy is to keep him, or she entertained. The reason why we'll be telling all about the best baby car seat toy.
Whether you're headed to the grocery store or on a full-on road trip, car seat toys can help make the ride more bearable for your baby and you. Baby car seat toys may be overlooked by many; however, they play an important role, giving your little one something to stay occupied with, potentially preventing a meltdown, so you can remain focused on reaching your destination.
Unfortunately, the thing is, not any old toy will do. There are unique car seat toys designed to distract your baby. While choosing the right car seat, you most definitely want to pick the best, but what exactly should you be looking for, you ask. To help you in the right direction, find below, best baby car seat toy and more choices to choose from.
Best Baby Car Seat Toy FAQ's
Is it safe to hang toys from car seats?
When installing your infant seat, pay close attention to the recline indicator found on the seat's base or carrier to ensure the proper position for your baby. Do not hang toys from the carrier handle. Do keep toys in hand or tucked away. There are other car seat accessories to choose from, check out some of the more useful and entertaining Car Seat Accessory options for your baby!
What are some of the benefits of baby car seat toys?
Teething
A variety of car seat toys have been created specifically for teething. As your child grows, teething will begin, and it will become uncomfortable and sometimes unmanageable. It can usually be soothed by chewing on different items.
Multi-sensory stimulation
Children who play with car seat toys are very likely to improve their cognitive skills. They can view different colors, play with different shapes and textures, and hear different sounds.
Entertainment
This may be the most important benefit of car seat toys. The ability to keep your child happy and occupied can be easily achieved by car seat toys. Your child won't be bored, they will be stimulated, and they won't bother with items that they shouldn't be playing with, such as your purse keys.
What are the types of stimulation you can find in car seat toys?
Tactile Stimulation: This makes the baby aware of touch sensations, temperature, and texture.
Gross Motor Skills: This is the ability to use the arms, torso, and legs to complete whole-body movements.
Fine Motor Skills: This is the coordination of the hands and fingers, such as grasping small objects.
Auditory Awareness: The ability to respond to a sound depending on where it comes from.
Visual Awareness: The Awareness of external visual stimulation.
What to look for in a car seat toy?
Made from baby-friendly, non-toxic materials. Additionally, the American Academy of Pediatrics (AAP) recommends soft, lightweight toys.
No detachable, small parts. The toy should not have any components that could become loose as they could become a potential choking hazard.
Easy to clean. You want to make sure you're able to avoid the spread of germs.
Attached to the car seat. It's always a brilliant idea to have a few toys and books within arm's reach for your child.
Developmentally appropriate toys. Toys that make noises when touched and have various textures are great for baby's senses once they can reach out and grab objects.
Avoid tablets. While the play is undoubtedly restricted during a car ride, offering toys and books that your child may reach for and touch are more beneficial than merely watching a screen.
Audio features. Many of these toys for babies' car seats have audio elements such as songs, melodies, or noises. This can very easily be annoying for parents, but occasionally you will find a toy that allows the music to be shut off.
Baby-safe mirrors. While not as straightforward as real glass mirrors, these encourage your baby's sense of self and understanding of the environment around them.
What are the top baby car seat toy brands?
Manhattan Toy. The company was founded in New York, and when he later sold it, the new owners headquartered it in Minneapolis. Manhattan Toy uses research to back its toy design and has award-winning toy lines.
Infantino. It focuses on designing endlessly entertaining toys to make parents' lives easier. It has thrived by making top-quality toys at affordable prices throughout the years.
What are Lamaze toys?
Created in conjunction with child development experts, Lamaze toys inspire healthy play and learning. Lamaze toys encourage the baby to grow and develop through features that promote together time between parent and baby and activities that encourage the baby to explore and learn independently.
What are the types of car seat toys?
Attached
The majority of car seat toys you will find are attached to your baby's car seat; some through hooks, others through Velcro straps, and others are clipped on as arches. Most of what you will find is designed to hang over your baby, so they can stare at it and reach up to interact with it.
However, there are limitations to this type of toy. They will not fit all car seats, so you will need to ensure your dimensions before purchase.
Unattached
The other alternative is toys that are not attached to the car seat. These are handheld toys for your baby or ones that can have links clipped to them, so they then attach to the car seat.
The benefit of these is that you don't have to worry about car seat size. They will fit any type of carrier. They also tend to be more easily transportable and lightweight.
Best Baby Car Seat Toy
The Toe Time infant car seat toy comes with toes that twinkle and gentle music that plays with every kick from your cutie pie, 3 hanging soft toys that crinkle or jingle once tugged, and a baby-safe mirror surrounded by eye-catching stars; your kiddo will love it.
Unlike other rear-facing car seat toys that your baby can't reach or block the view of your backseat mirror, this travel activity toy comes with velcro straps for adjusting both its height and angle.
Through all the giggle-sparking, kicking, tugging, and playing, your little one will develop their fine motor skills, have their visual and aural senses stimulated, and get a head start on color recognition.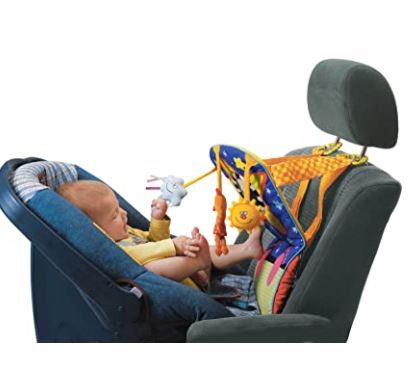 Features:
Learning tool
Develop motor skills
Soft toys
This fun spiral includes four visually delightful hanging toys in the perfect batting and grabbing range. Perfect for baby's gross motor skill development and visual tracking.
Includes 4 hanging toys that provide fun and sensory interaction. Easily wraps around car seat handles, most strollers, and cribs.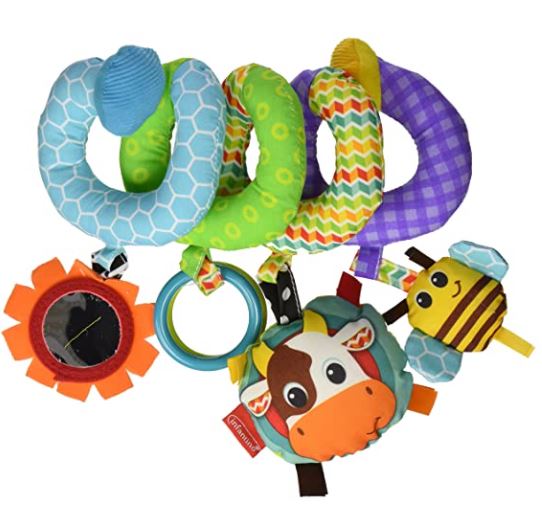 Features:
BPA-Free
Sensory interaction
The Lamaze Mortimer the Moose is a developmental toy that features plenty of fun for your little one to explore.
Mortimer has colorful, satin, knotty legs and multiple textures on his hooves with fun crinkles and jingles.
Squeeze his tummy to show baby how it squeaks! Mortimer also features contrasting patterns and multiple bright colors that help with visual development during playtime.
Features:
Cuddly
Soft teeth able antlers
Colorful
Add this versatile arch to the baby's stroller, and suddenly strolling, and shopping becomes an adventure.
The Flex' n Go Activity Arch from Oball easily attaches to almost any stroller and keeps baby entertained with an easy-to-grasp Oball, a lion rattle, an elephant rattle, and Oball Linky Loops to attach additional toys.
The flexible, soft material keeps little hands busy with bold colors and tactile challenges.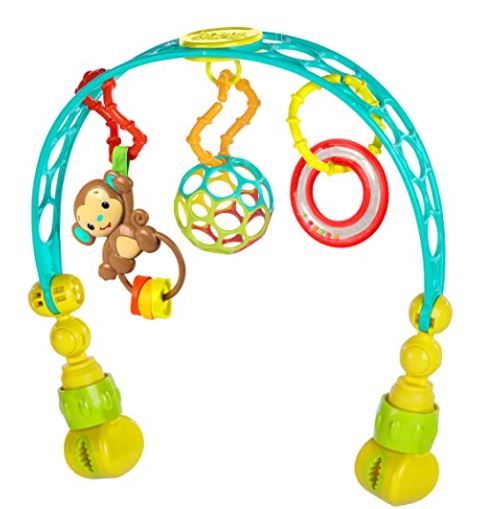 Features:
Soft, flexible Oball material
3 removable toys
Attachable
This whimsical character features bright colors and high-contrast patterns that offer visual stimulation. Hidden noisemakers include rattles, squeakers, crinkle paper perk up little ears, and a variety of textured fabrics to keep busy hands occupied.
Attaches to most strollers and carriers with a Velcro-like closure. Whoozit is loved by babies everywhere and has garnered numerous prestigious awards for its universal appeal and thoughtful design.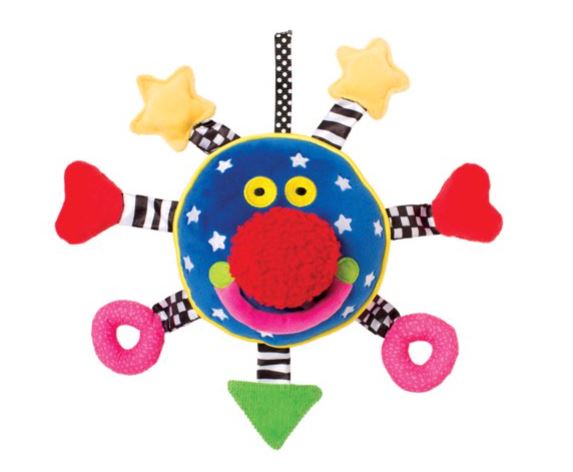 Features:
Unisex
Colorful
Small enough to tuck easily into a purse or coat pocket
Babies' car seat options are extensive, which is why we did a little research of our own and picked the Best Car Seat Brands in the market that best suits your needs, prices, style, compatibility, and so much more.
Best Baby Car Seat Toy Useful Tips
If it's going to be a long road trip and if there's another adult in the car, take turns sitting in the back for at least part of the trip.
Pre-pack small servings in easy-to-open plastic containers, and you'll avoid the frustration of trying to open complicated packages and pour without spilling while driving.
Many toys for a baby's car seat are designed to promote their learning through cause and effect, sounds, safe mirrors, and encouraging understanding.
Buy a car seat with side pockets so that you can add extra toys and snacks for the baby.
Buy a baby car seat mirror to monitor the baby in the rear-facing seat and see if they enjoy the toy.