In the search for the smallest folding stroller? We hear you, when you are short on space or fond of travel, then you'll need a stroller that's small when folded. When it comes to compact folding strollers, not all mechanisms are created the same. The reason why it's worth it getting to know about the smallest folding stroller available.
Compact-folding strollers are popular among parents because these take up very little space when they're folded with the seat on. If you are in the search for the smallest folding stroller you should know that the folding process isn't a walk in the park. Some are truly one-handed with the push of a button, while others require a bit more involvement.
However, in a sea of options, it can get a little challenging knowing where to begin and what to look for in a folding stroller. But don't worry, to help you in the right direction we invite you to get to know some of the smallest folding strollers currently on the market.
Smallest Folding Stroller FAQ's
What stroller folds up the smallest?
With its exceptional design innovation, the lightweight gb Pockit is the world's smallest folding stroller, per Guinness World Records. When folded, it is the smallest and most compact stroller currently available on the market, 12″ x 7″ x 20″ to be precise.
What is the most compact stroller?
The Pockit is the world's most compact stroller. It fits easily in the overhead compartment of a plane as well as under your seat, in a shopping bag, or even in a large diaper bag.
What are the small strollers called?
Travel strollers, also called lightweight strollers, strike a balance between traditional and umbrella styles. They're lighter than most full-size strollers and feature a compact, vertical fold in contrast to umbrella strollers' slim, horizontal fold
What size stroller can I take on a plane?
A stroller with a collapsed diameter not exceeding 25.5 cm (10 in) and a length not exceeding 92 cm (36 in) is allowed, in addition to your carry-on allowance, regardless of destination. It can be checked at the gate to be delivered to you at the aircraft door at the end of your flight. Find out more about all types of strollers when you are traveling from our review best travel stroller options,
What is the best compact pram?
The Bugaboo Ant is Bugaboo's lightest and most compact stroller in their range. This is one of the best prams for travel as it's designed to be the most lightweight pram packed full of features to make bub as comfortable as possible on your next adventure.
What aspects should you consider when looking for the Smallest Folding Stroller?
Age suitability. Some compact folding strollers are suitable from birth, either offering a lie-flat seat recline or the option to buy an additional carrycot. Some may also be travel system compatible, meaning you can attach an infant car seat.
Frequency of use. Some strollers are super-light and the perfect solution for travel, but might feel a bit too lightweight for everyday use. Identifying what your priority is will make choosing much easier.
Adjustability. Many compact strollers don't offer that much in terms of adjustability. If you value a degree of adjustability, you might want to go for a model that is slightly less compact but can suit your life in a more flexible way.
Fold type. Not all folding mechanisms are created equal, and just because a pushchair has a compact fold, doesn't mean it's a smooth, fuss-free folding process.
Seat height adjustment. Pushchairs can be categorized as lie-flat even if they're not completely flat, they can still lie at 150° angle rather than a flat 180°.
Accessories. Since their compact, and often lightweight, design means they have a more stripped-back feel, many of these models come with the option to purchase additional accessories like footmuffs, cup holders, shopping bags, parasols, etc.
Comfort. The compact stroller category spans a huge range from purely functional with minimal comfort features, to rather luxurious models. If you're planning to use your stroller as your everyday mode of transport, this might become a crucial factor.
Storage. If you find yourself relying on your stroller to do all the heavy lifting shopping, changing bag, sports kit, snacks; then choosing a compact buggy might be tricky. There are many that don't offer much in terms of storage, some don't even allow you to store your handbag.
Smallest Folding Stroller
With the Summer 3Dlite Convenience Stroller, you don't have to sacrifice any features you want in a stroller. This infant stroller has a durable, lightweight, and stylish aluminum frame and is one of the lightest and most feature-rich convenience strollers on the market.
With a compact, easy-to-fold frame and carry strap, you can be on-the-go running errands or traveling or stow and go with ease.
Some of the features in this lightweight stroller include a large seat area, 4 position recline, 5-point safety harness, anti-shock front wheels, lockable rear wheels, adjustable and removable canopy with flip out sun visor, easy compact fold with carrying strap and auto-lock, extra-large storage basket, rear storage pocket, cup holder and more.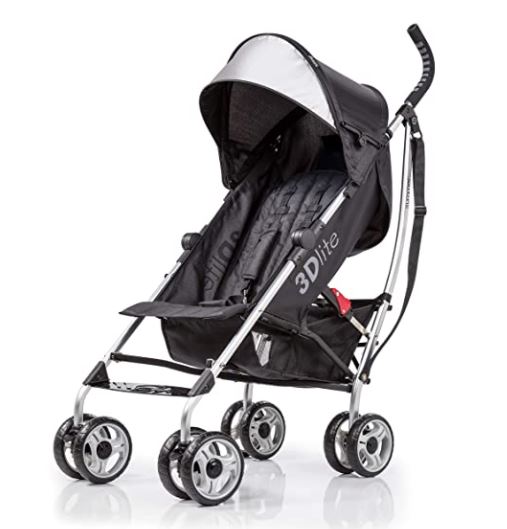 Features:
Aluminum
Lightweight
4-position recline
The MINU is the perfect companion for urban living parents looking for a lightweight, portable stroller with features to keep up with their daily adventures.
The one-handed action fold and shoulder carrying strap make it easy to take anywhere, while the roomy basket is large enough for storing a diaper tote or shopping bag.
The MINU is also optimized for infants with the use of From Birth Kit or car seat adapter accessories. Suitable from 3 months to 50 lbs One-handed, one-step fold, stands when folded lightweight, portable design with carrying handle and shoulder strap.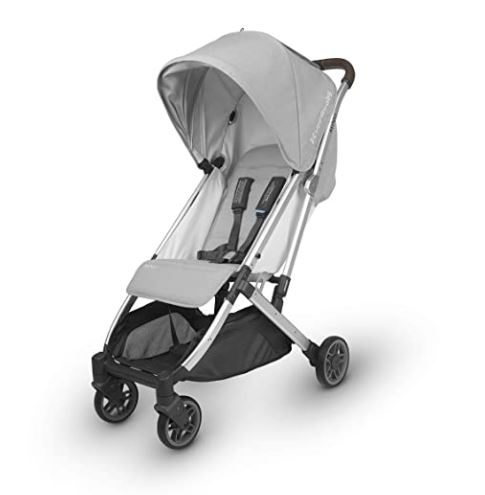 Features:
Leather
One-handed
One-step fold
Meet the world with your child using the Thule Spring – a lightweight and compact stroller made for motion. This 3 wheel stroller allows you to easily navigate narrow urban streets, shop for groceries, or meet up with friends.
Designed with an easy one-hand fold to quickly close even when carrying a child. Thule Spring is 30% smaller than traditional 3 wheel strollers, and its unique 3D compact fold and self-standing capability make it easy to carry, transport and store when not in use.
This single stroller comes with all of the safety features you expect from Thule. The reclining seat with a 5-point harness provides safety and comfort for strolling and napping on the go.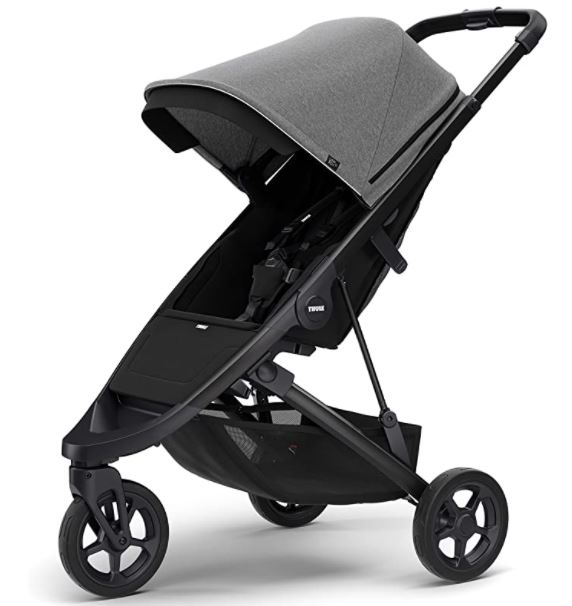 Features:
Lightweight
UV protection
Adjustable
The Pocket Air All-Terrain is an absolute travel essential, providing total convenience without compromising on comfort or style.
Whether you're on holiday, exploring the latest urban hotspot, or simply on the move, the Pocket Air All-Terrain is perfectly in tune with the needs of modern parents.
The double wheels of the Pocket Air All-Terrain were cleverly designed to allow parents to confidently maneuver on different surfaces throughout their day.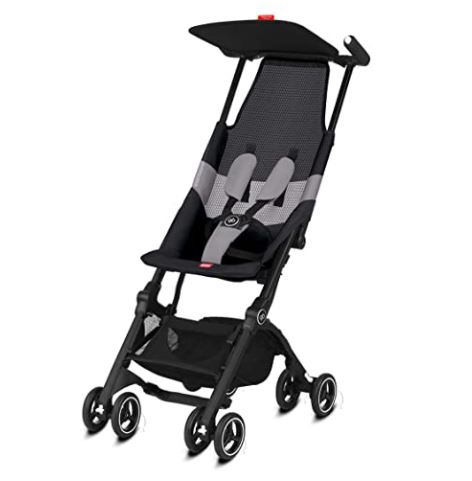 Features:
Ultra-compact folding mechanism
Super-lightweight
Aluminum
This high-grade aluminum Zoe stroller is built to last while weighing less than 11 pounds, making it the best lightweight stroller for children 3 months or older.
This well-built stroller is Disney-approved, features the easiest one-hand fold, can fit into a backpack, and can even be carried as a backpack itself.
Fold and unfold in seconds with a single trigger button. The self-locking and standing system lets it stand upright on its own when folded.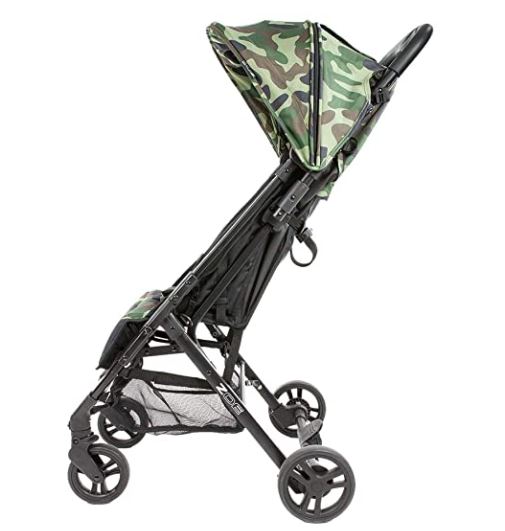 Features:
Lightweight
Compact
Aluminum
Mountain Buggy Nano is the ultimate travel companion that promises convenience, longevity, an authentic Mountain Buggy experience of ease and maneuverability with first-class safety innovation.
A stylish and innovative travel stroller, Nano is a game-changer for the world of nursery travel and is going to strongly influence the direction of what a travel stroller should deliver.
Weighing at just 13 pounds and with the ability to compact fold into its included travel bag, it fits into overhead luggage compartments for families who value ease and pure functionality. The front wheels feature swivel and lock capabilities for awesome handling in tight spaces and uneven surfaces.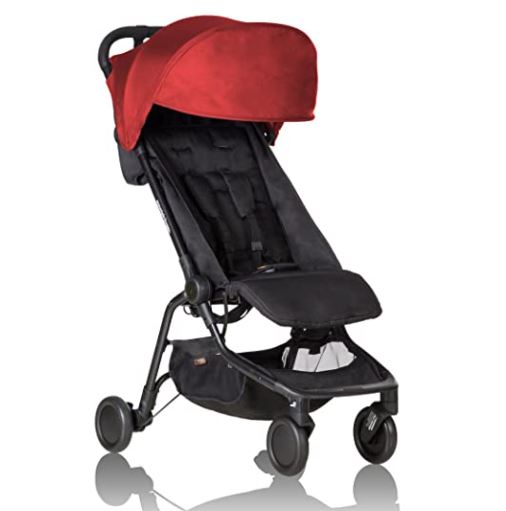 Features:
Easy two-step, compact fold
Deeper recline
Solid flip-out visor