Searching for the best hiking baby carrier? We hear you; whether you are going on a hike, heading to the park, or just out for a walk with the dog, why not make it an exciting adventure with the best hiking baby carrier your money can buy. So today, we'll be sharing with you some of the best hiking baby carriers around.
If you want to go on hikes with your toddler and have a positive experience with your child, then the proper gear is required. Part of that gear includes baby carriers specialized for this type of activity. With the best hiking baby carrier, you'll be able to carry your child on your back in a safe and supportive way, giving both you and your child a shared perspective of your surroundings.
The type of carrier you need depends on your child's age and how you plan to use it. Most baby hiking carriers go well beyond just providing a means to secure your child to your torso.
With so many options in the market, how do you know which one you should get for you and your little one? Discover some of the best hiking baby carriers currently in the market.
Best Hiking Baby Carrier FAQ's
Can I use a baby carrier for hiking?
You'll be able to use a baby hiking carrier when your little one has strong head and neck control, which is usually around six months old. Most carriers can be used until your little one is about 40 pounds, so well into the toddler years.
Is a baby hiking carrier worth it?
It will make your whole hike not so much fun. A soft carrier is suitable for a while, but you will also want to consider a frame carrier at a certain point. Some hikes are better with babysitting up high behind you looking out, while others will want them close to your body.
At what age can babies go in a hiking carrier?
Although most soft-structured carriers can be used from birth, hiking packs are intended for kids who are about 6 months and older, a baby should be able to sit up on their own. A soft-structured carrier paired with a diaper bag might be preferable for shorter trips with a younger child.
How do you carry a baby on a hike?
If your baby isn't comfortable, you could be stuck with screaming for much of the hike. Make sure their legs aren't dangling in the wind in a frame carrier and that they are sitting upright, not tilted to the side. Infants should be tight up against your body if in a soft carrier.
What to keep in mind when choosing a baby carrier for hiking?
Weight: When you're carrying a baby, every ounce counts. Lightweight packs that carry a child but have minimal additional features weigh as little as five pounds, while heavier packs weigh upwards of nine pounds.
Comfort: Some packs have fancy suspension systems that raise the pack off your back to improve airflow while evenly dispersing weight, while simpler options have classic padded straps.
Loading: The bigger and squirmier the child, the more difficult they are to load. Most packs are top-loaders. Some are side-loaders. And some have both options. And they all have a "kickstand" that allows the pack to sit upright independently so one parent can manage it on their own.
Storage: Some packs just provide a more efficient way to carry your child, while others have tons of extra storage capacity to bring snacks, cameras, diapers, and even a water reservoir.
Hiking baby carrier caring tips
To maximize the longevity of this item, make sure to clean it after every use. That likely will mean a simple wipe down to remove any loose dirt.
The dirtiest place tends to be around the stirrup area, especially if your child walks and has been in and out of the carrier on the hike.
If your carrier gets muddy on the sides or bottom, it's best to let the mud dry before wiping it down; most of it will wipe right off. You may need to use the simple cloth and dish soap combo to clean off more challenging stains.
Make sure to read through the booklet that comes with your carrier, as each model may have slightly different care instructions depending on the fabrics and features.
Best Hiking Baby Carrier
You can now hit the road with total comfort with this elite baby carrier. This model offers complete safety, so pilot and precious cargo both enjoy the ride.
The Journey Perfect Fit Elite child carrier offers everything you could possibly need while trekking in the wild with your kiddo. The suspension system easily adjusts to fit both mom and dad so you can both comfortably share the load. Also if you are a dad, and are interested in purchasing a baby carrier, then you should definitely read about the best dad baby carrier options.
Featuring a 5-point safety harness and padded aluminum roll cage for no-worries trekking on any terrain, as well as a dirty zippered compartment that wipes clean for life's inevitable messes.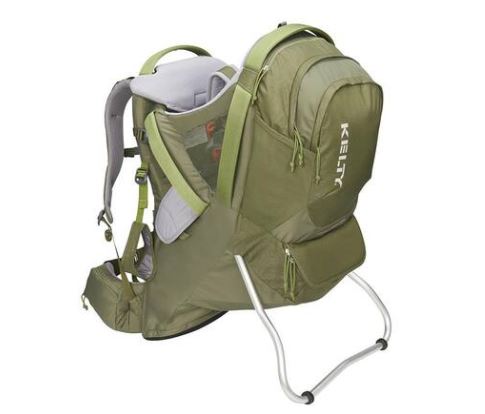 Features:
Integrated sunshade
Wide seat base
Adjustable foot stirrups mirror
Multiple grab handles
Designed for toddlers and older children, the Piggyback Rider is a compact, lightweight, sturdy standing child carrier.
Feel safe and secure with our upgraded adult carrier with 2 handles and Child Safety Harness which is included. One of the top benefits is your child's hands are off your face and hair and securely standing firmly on a non-skid bar.
The sturdy, unisex design functions like a standard backpack, distributing the child's weight at your core, enabling you to walk standing straight up in a natural posture with your hands-free.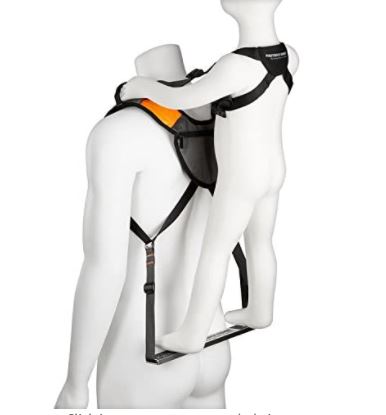 Features:
Lightweight
Compact
Child Safety Harness
This Red ClevrPlus Child backpack carrier is made of a strong but lightweight metal frame and 600d oxford cloth, it can withstand the elements and daily use.
Featuring multiple pockets, thick padded shoulder pads, a padded waist strap, and two side water bottle holders. Extra-large back pocket for diapers and necessities, which features a safety reflective strip across the back pocket. Sun/Rain canopy can be easily removed at any time.
The child carrier features an easy adjustment system to provide a comfortable fit for you and your child. Metal stands allow it to sit upright on a flat surface and quickly fold in when on the go.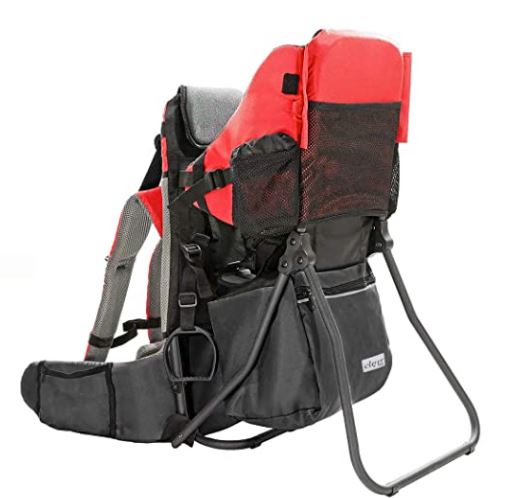 Features:
Foldable metal frame
Multiple pockets
Canopy can be easily removed
Your baby carrier has a mesh hood included protecting your baby from the sun's glare. Your backpack has been designed to be comfortable for Mommy and Daddy too.
The carrier has excellent suspension, and the weight is distributed very evenly. The height of the torso can be adjusted. This carrier has adjustable stirrups to keep their little feet from dangling and kicking you in the back as you adventure together.
The mesh back provides ventilation and reduces sweaty backs, which get very irritating on longer hikes.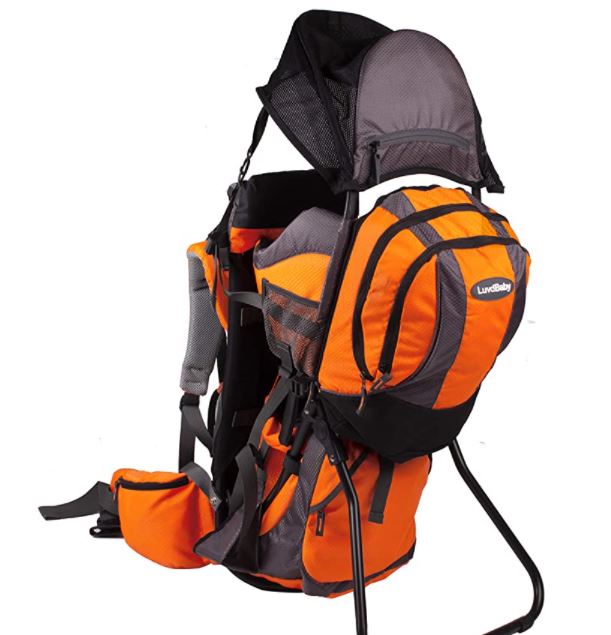 Features:
Nylon lining
Zipper closure
Diaper Changing Pad
Safely and comfortably explore local trails, stroll to the park and make everyday tasks more accessible with the freedom of the Poco Plus child carrier.
A double halo harness features front-facing arm loops for an easier way to load and buckle in a child, while the adult's adjustable harness and Fit-on-the-Fly hip belt offer both small and tall parents alike the most comfortable carry experience.
Featuring a removable drool pad, toy attachment loops, a zippered lower compartment large enough to stash a diaper changing kit, and extra storage on both the main body and hip belts.
Features:
Adjustable and removable stirrups
Lightweight folding aluminum frame
Zipper slash pocket
Dual grab handles
The Deuter Kid Comfort Carrier offers a relaxing ride for your kiddo and extra storage space for longer days for parents hiking or traveling with wee ones.
Fully adjustable shoulder straps, hip belt, and torso length allow either parent to wear it, with load adjustment straps for dialing in a balanced outing.
The integrated daypack is perfect for the baby's daily needs and can be attached to the chest straps for easy access en route. Two grab handles and a sturdy aluminum frame keep it accessible to maneuver when it's not on your back.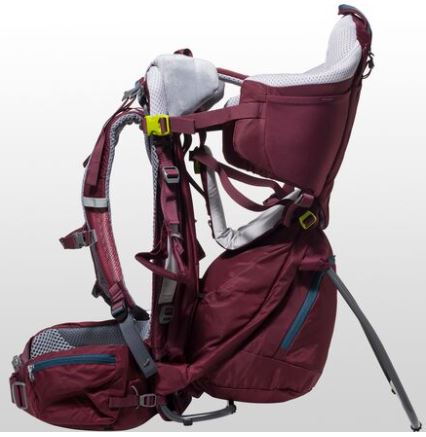 Features:
Adjustable load straps
Padded hip belt and shoulder straps
External pockets
The bottom compartment houses extra layers