When you are a parent, you enter the exclusive world of baby products, items, gear, whatever you want to call it; one of those products include the best high chair you can find for your child and one thing you want out of your high chair is a portable one. So today, we'll be sharing with you some of the best portable high chair options.
These small high chairs are convenient for travel and restaurants and are great space savers at home. Having the best portable chair, you can find means no one will stop you from hitting the town with your kid. With the help of portable high chairs, you can spend quality time with your family while checking new and exciting places.
However, with so many options in the market, it may seem like a bit of a task having to pick among a sea of brands and features. But once you know what you're looking for, the options become clearer. Check out below some of the best portable high chair options around.
Best Portable High Chair FAQ's
Why do you need a portable high chair?
A portable high chair is excellent for eating out at restaurants that don't provide any baby-friendly seating options or when you want to avoid the sticky, crusty, broken-safety-belt loaners many places offer.
Having a portable high chair ensures your child always has a safe spot at the table; this way, avoid feeding your child from your lap.
What are the styles of the portable high chair?
Clamp-on high chairs. Portable high chairs that clamp onto tables are smaller, lighter, and easier to pack. But they might not work with round or oval shapes, tables with thin lips, or ones that aren't solid enough to support your baby's weight. Also, the fabric seats tend to be hand-wash or spot-clean only.
Portable high chairs that strap onto dining chairs are a breeze to clean; just wipe the plastic down, and later, you can remove the tray to use them as a simple booster seat for toddlers. But this type of portable is bulky and a pain to tote around.
What should you consider when choosing a portable high chair?
Look for a portable high chair that's lightweight and small in size for more accessible travel.
Try to find a chair that is easy to clean. The fabric, table, and nooks, and crannies of a high chair can get filthy fast.
ASTM International requires a three-point harness. Look for one that's easy to buckle and adjust.
If using a hook-on high chair, make sure the table is heavy enough to support the chair's weight and your child. Be sure to lock the chair securely onto the table.
Best Portable High Chair Options
The ORIGINAL Portable Easy Seat by Cozy Baby is the ultimate companion for on-the-go parents. For use at home or take it anywhere you go, including restaurants, grandma and grandpas, or any place, you would typically need a high chair.
Quickly and easily covers the chair into a safe and secure portable seat. Also comes with its own matching carry bag for easy storage. This item is for baby's 6 months or older and up to 35lbs.
To use, simply slide the reinforced hood over the top of the chair wherever you are. You will find it's fast and convenient to set up.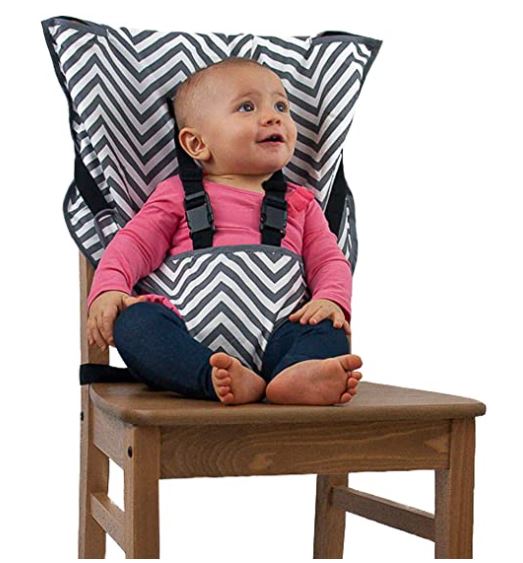 Features:
5-point-safety-harness
Machine Washable
Carrybag
The Chicco Pocket Snack Booster Seat features easy-to-clean surfaces, three tray positions, three height adjustments, and a three-point harness.
The convenient carry strap and compact fold make this seat easy to take to restaurants, on vacation, or to visit family. The Pocket Snack is designed to be used only on dining chairs.
The two straps and rubberized feet secure Pocket Snack to the dining chair. Periodically wipe the seat and tray with a damp cloth and mild soap, towel dry.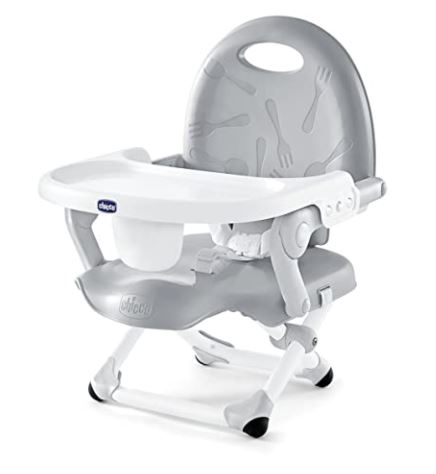 Features:
Quick to set-up
Sturdy metal legs
Three-point harness
Lobster is super easy to take with you when dining out with your baby. Granting all your cleaning wishes, the lobster fabric is durable & wiped clean and slides right off the high chair frame for hand washing.
A 4-point safety harness with padded shoulder straps keeps the wriggliest of babies safe and secure in their high chairs.
Super-strong "lobster claws" with rubber grips secured to the table with a clamp mechanism; easy for adults, not so easy for kids.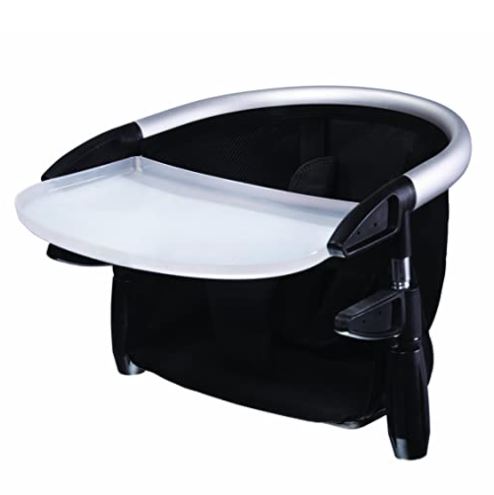 Features:
Adaptable
Hygienic
Lightweight
On-The-Go Booster Seat seems to appear and disappear like magic. Pull out the valve, and it self-inflates into a sturdy and comfortable full-size booster seat. Then press out the air and fold down the back once mealtime is over.
With a self-carry handle, it's compact, lightweight, and has an adjustable safety belt with T-restraint to help hold your child securely. This is definitely one for your mommy bag of tricks.
Once mealtime is over, just press out the air and fold down the back. With a self-carry handle, it's compact, lightweight, and ready to go. Take it anywhere from 9 months to 50 pounds.
Features:
Lightweight and compact
Adjustable safety belt
Inflatable full-size booster seat
Bumbo introduces the Bumbo Multi Seat, the next step in seating for your child. The Bumbo Multi Seat is ideal for babies who have already mastered the Bumbo Floor Seat and will see your child through to the toddler stage with a seat that grows with your child.
With attachment straps to easily convert from a floor seat to a booster seat, you can begin enjoying key developmental milestones from feeding to playtime as soon as your child can begin to sit unassisted.
The seat's foam pad cushions your baby and can be removed to create more room as they grow. The removable tray attaches to the back of the Multi Seat for easy storage and transport.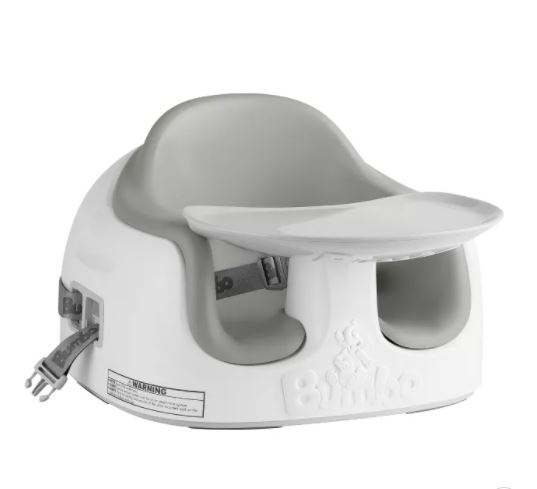 Features:
Padded Seat
Safety Belt
Padded Frame
This high chair for table attaches quickly and easily to tabletops. VEEYOO hook on seat lightweight and folds flat for convenient travel or storage.
The back of the table seat is equipped with a carrying bag. You can sling it over your shoulder. Clip-on baby chairs could hold the baby at least 6 months old or up to 33 pounds.
A 5 point safety harness could prevent the baby from standing up even with the harness latched, making sure your babies stay right where they belong. Having a removable cover and seat cushion makes clean-up a snap.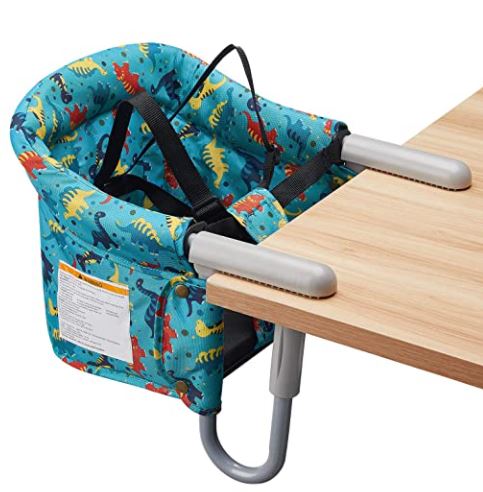 Features:
Machine Washable
Safety Detail
Easy to Install
The Healthy Care Deluxe Booster Seat has a feeding tray you can sanitize right in the dishwasher with a Snap-On lid, so the tray stays clean wherever you go.
Three height adjustments allow for a custom fit to any table; front and rear seat straps adjust to fit almost any chair.
Folds compactly for portability, with a carry strap so you can take it anywhere. Tray and seatback remove for easy conversion to a portable toddler booster seat.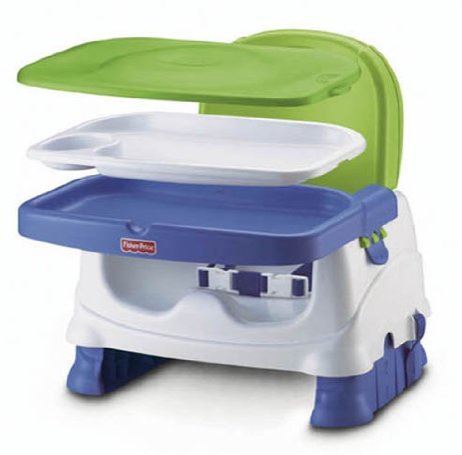 Features:
Dishwasher-safe feeding tray
Snap-on lid keeps feeding tray clean
Built-in cup holder
Are you still feeling doubtful about what chair to get? Read more about types of high chair options, and pick the one that best suits your and your baby's needs.