In the lookout for a baby high chair? We hear you; if you have little ones at home, then a high chair is one of those baby products you just can't do without. A high chair provides your baby with a safe and secure place while being fed. So if you are new to the high chair game, we'll be telling you all about the different types of high baby chairs.
Feeding your baby is exposing them to experiment with new tastes and textures. This can only be done as your baby is seated joyfully and safely in a high chair. The raised height makes it easier for you to supervise mealtime and clean up afterward.
Finding the right high chair is key to making mealtime a pleasant experience. But with many options in the market, it may seem a bit overwhelming knowing what's the best choice for you and your baby. Learn about different types of baby high chairs and more.
Types of Baby High Chairs FAQ's
At what age do babies start using high chairs?
Most recommend waiting until a baby is 6 months old before using a high chair. This is a good starting point, but you'll want to make sure your baby is ready. After all, each child develops at a different rate.
Is a high chair suitable for a baby?
The most practical approach to take care of them would be a baby high seat with the help of a baby. Baby high chairs make it incredibly simple to let the youngster sit in one spot and feed them. The stature of the seat additionally makes it convenient that you would not need to bend down each time you feed your little baby.
Can you put a 4-month old in a high chair?
Whenever you think your baby is ready to sit up, you can get a high chair for him. Usually, babies start sitting up by 4–6 months of age, but each child develops at his own pace, so you don't want to rush it if your baby isn't entirely ready for his new throne.
How are portable high chairs different to travel high chairs?
Travel high chairs are still quite bulky. While they will fold down small enough to fit in the trunk of your car, you could never squeeze them in a diaper bag or comfortably carry them around all day. We gather a list of portable high chair options that you'll find quite helpful.
What are the types of baby high chairs?
Traditional High Chair
A traditional high chair can be made from metal, plastic, or wood (or any combination of those) and is little more than a raised chair for your baby to sit in. This used to be the only style of high chair available.
Traditional high chairs contain none of the bells or whistles of modern high chairs. They cannot be folded up for storage and are instead designed to be set up and left in a designated area of your home.
Modern High Chair
Advancements in modern technology have allowed manufacturers to include all manner of features in their high chairs. Modern high chairs look vaguely like the traditional variety but are highly adjustable.
Modern high chairs are also known as multifunctional high chairs and can be adjusted to suit your baby's comfort. Different pieces of the high chair that you can change include the height of the chair, recline of the seat, the height of the tray, and footrest height.
Space Saving High Chair
Also known as booster chairs, a space saver high chair will allow you to create a high chair out of any old chair lying around the house. Simply pop the booster chair on top of your regular chair, and your baby is ready to be seated for mealtime.
The small size makes space saver high chairs perfect for apartments where every inch of free floor space counts.
Convertible High Chair
Your baby will outgrow the high chair phase in no time at all. Once outgrown, a high chair will be of little to no use to you. That is unless you bought a convertible high chair.
Convertible high chairs have been designed to grow with your baby, many of which can be used up until three years old.
Travel High Chair
A high travel chair is essentially a camping chair designed specifically for your baby. Travel high chairs are designed for outdoor use, whether camping by the fire or simply having a cookout on the lawn.
A high travel chair is typically constructed from a heavy-duty canvas stretched over a metal frame; travel high chairs do not require assembly and simply fold up into a narrow cylinder.
Hook-On High Chair
Hook-on high chairs are also known as table chairs; appropriately named because they clamp to the side of your dining table. Your little baby will sit suspended in mid-air with his feet dangling below.
Supporting up to 37 lbs, hook-on high chairs are designed to be used early in your infant's life. If you have a heavier baby, you will have to stick with high chairs supported by the ground.
Fabric High Chair
Lightweight folds up small and can be thrown through a wash cycle. Fabric high chairs are perfect for feeding your baby while you travel. Simply slide the material over a regular dining chair, clip your baby in, and you are good to go.
Most fabric high chairs are made from an easy-to-clean polyester cloth that can be machine washed. Since this high chair style does not come with a tray, you will likely need to clean the chair after each meal.
Types of Baby High Chairs for Twins
This design allows you to sit down and face each of your babies at the same time and is not only suitable for feeding time but also for arts and crafts. Families with multiple kids might consider such an option.
While high chairs for multiple kids are a great solution, they are also the most expensive out of all high chairs.
What to keep in mind when buying a baby high chair?
Secure construction. Look at the sturdiness of the chair you're considering buying. Be aware of possible loose parts on the high chair or sharp edges.
Safety. This should be the top priority when it comes to choosing a high chair. First, look for a sturdy high chair. Second, make sure that there aren't any sharp, loose, or small moving parts.
The harness. A five-point harness secures your baby at the shoulders, hips, and crotch, whereas a three-point harness does not have straps at the hips. The safety straps should be easy enough for you to use but difficult for your child to open.
Stability. Look for a chair that has a broad base, as this can help make it more stable. Avoid models with protruding legs as these can be a tripping hazard.
Secure tray. The tray should be easy for you to lock in place, adjust, and remove but difficult for your child to maneuver. Consider looking at those high chairs with double-action latches that are hard for your child to open.
A crotch post. Industry standards require that high chairs have a fixed position to ensure your baby doesn't slide out of the chair.
Adjustable seat height. With many high chairs, you can adjust the height so that it's at the same level as your dining table or a height that works for you when you're feeding your little one.
Lockable wheels or a chair without them. If you prefer a chair with wheels, look for a model that has lockable wheels or one where the wheels stabilize from your baby's weight.
A durable seat cover. Look for durable materials that are easy to wipe clean, or better yet, are machine washable.
Types of Baby High Chairs
The Nook uses a swing-open tray to simplify mealtime. This fantastic high chair features a large swing-open tray that operates with one hand. Without using two hands or lining up cumbersome rails, mom or dad can easily hold their child while working the tray.
There is no need to remove dishes from the tray before taking the child out of the chair. Simply swing the tray open, unbuckle your child, and off you go to the next task. This feature helps keep your kitchen counter clear.
Folding and storing the high chair in the pantry or kitchen nook will make your kitchen feel more spacious.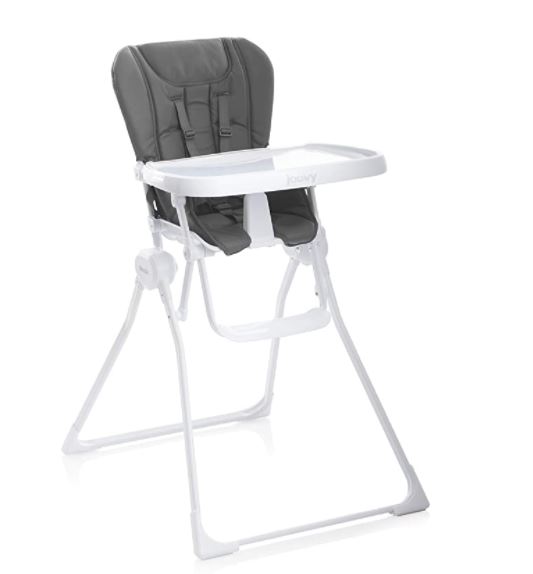 Features:
Removable, swing-open tray
4 adjustable positions
Easy cleanup
Dishwasher-safe
Invite fun to mealtimes with the Cosco Simple Fold High Chair. Easy to stow and take on the go, this high chair is specially designed to be simple enough to take along for the ride.
Whether dining at home or out and about, the Simple Fold High Chair gives your child a fun place to eat.
This high chair is also lightweight and stable; with a simple, no-nonsense design, this Cosco portable high chair quickly folds flat after mealtimes for out-of-sight storage or for packing quickly into the car.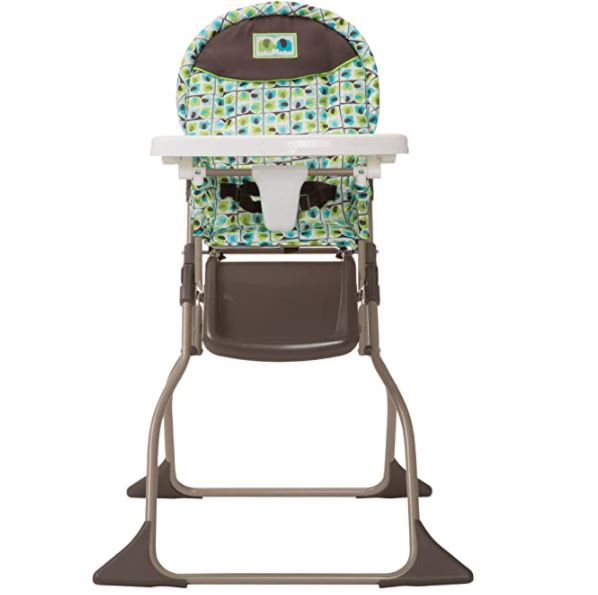 Features:
Secure seating
Folds away
Easy to clean
The Blossom 6-in-1 Highchair transforms seamlessly from an infant high chair to a traditional baby high chair, an infant booster, a toddler booster, and finally a youth chair.
The innovative design allows you multiple options to seat two children simultaneously.
The booster seat easily straps to a kitchen chair and allows you to seat your growing big kid while your little one hangs out in the highchair.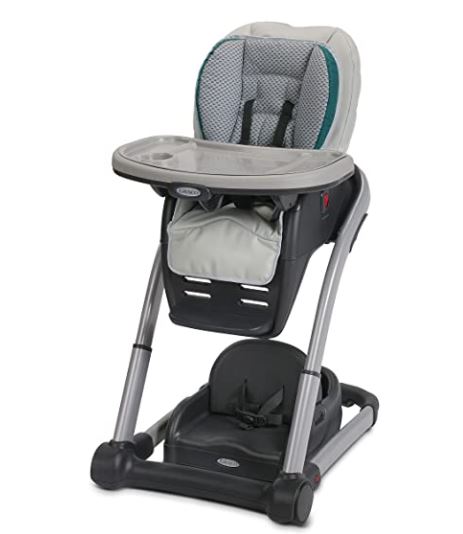 Features:
6-in-1 highchair
Machine Washable
Front Locking Wheels
Graco's 2-in-1 SimpleSwitch Highchair grows with your baby from highchair to booster. The highchair includes transitional features making each meal more enjoyable for your growing child.
Not only is this highchair-booster combination the value you're looking for, but an excellent way to bring your little one to the family table.
The Graco SimpleSwitch Highchair features a 2-in-1 design that grows with your baby from infant to toddler. The highchair includes 3 reclining positions.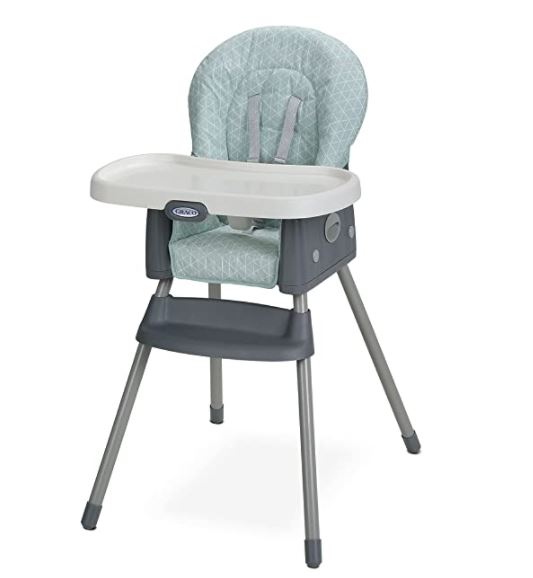 Features:
2-in-1 high chair
Converts to a booster
3 recline levels
The one-hand removable tray cover is dishwasher-friendly, a convenient solution for every busy parent.
The design enables quick adjustments of the seat and footrest to quickly adapt to whoever needs the chair. No tools are required for any seat adjustments.
The high chair can also be used without the tray as a dining chair, so your toddler sits right at the table with the rest of the family. The restraint system can be adjusted for a 5-point or 3-point harness, keeping your loved one secure and comfortable.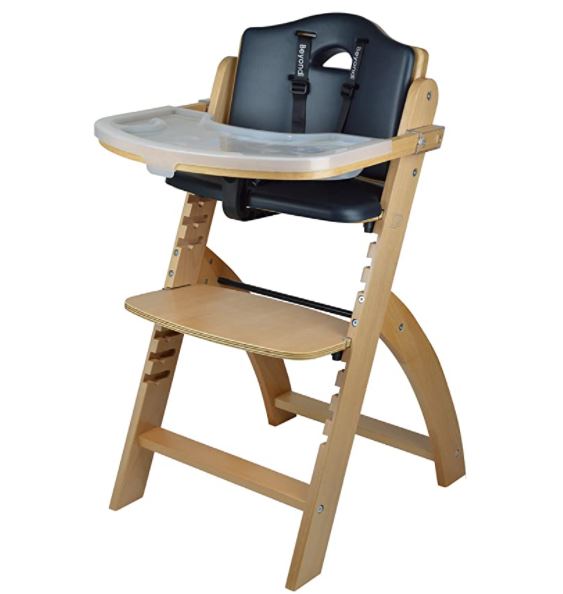 Features:
Dishwasher-Safe
Waterproof Soft Cushion
Heat Sterilization
The ciao! baby portable high chair goes with you anywhere -picnics, camping, vacations, tailgating, and grandma's house.
Durable material with a clear vinyl tray cover that easily wipes clean; you can also find a handy built-in cup holder.
The folding high chair is made of durable nylon, and the tray is covered in clear vinyl that easily wipes clean with water.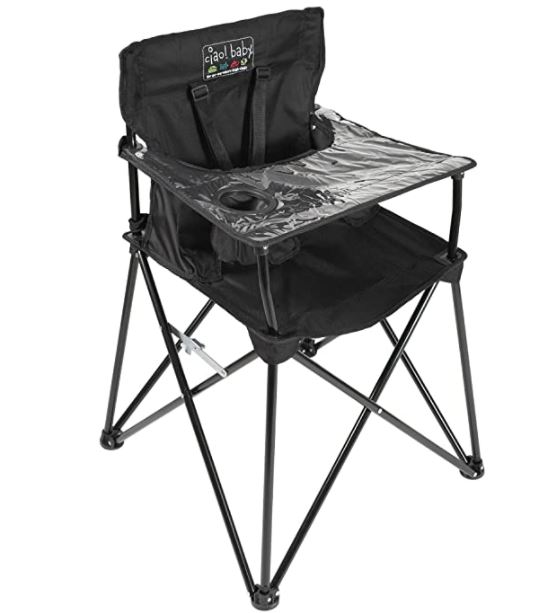 Features:
Built-in cup holder
Portable
Durable material
With the Fisher-Price SpaceSaver High Chair, you get everything you love from a full-size high chair but in a portable size that fits easily on most dining and restaurant chairs.
It has two height adjustments and three recline positions to keep your baby comfortable, and you can transform it into a toddler booster when your little one is ready.
The deep-dish design helps keep your little one from pushing food off the tray, and the spill-resistant seat pad and harness are machine washable.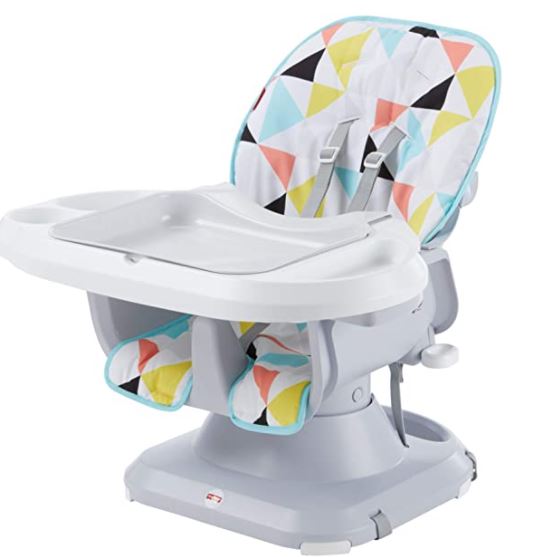 Features:
Spill-resistant seat pad
Machine washable
fits on most restaurant chairs