Thinking about traveling for the first time with your toddler and what a wonderful experience it would be? Then you may need a few essentials, including a high travel chair. Though you may not need it until you actually make that trip with your toddler, travel high chairs are practical and quite needed if you wish to have good memories when traveling with your kid. The reason why we'll be sharing with you some of the best travel high chair options around.
A high travel chair can make traveling with a young child that much easier, whether traveling to faraway places or to the restaurant down the road. Think about it: having your own traveling high chair means that you have more options for restaurants, rental accommodation, and hotels.
As you can see, finding the best travel high chair is something you don't want to mess up. With many options in the market, it may seem a bit of an overwhelming task. However, when you know what you're looking for, the possibilities become clearer. Check out below some of the best travel high chair options available in the market now.
Best Travel High Chair FAQ's
Why should you get a travel high chair?
Babies and toddlers actually love them. Most children always preferred having their own seat rather than sitting in their stroller or perched on their knees.
Safety. Traveling high chairs are safer than makeshift boosters.
Peaceful eating. You don't realize how nice it is to eat with two free hands until you have a toddler on your knee, preventing you from using them both.
Another big plus of having your own traveling high chair is having more options for restaurants, rental accommodation, and hotels.
What styles of travel high chairs can you find?
Unstructured, fabric travel high chair (harness chair). Unstructured travel high chairs made of fabric are the most portable of all solutions.
Clip-on travel high chairs. Unlike fabric high chairs, these do not use the restaurant chair but clip directly onto the table edge, meaning your child has pretty much zero wriggle room and, therefore, zero chances of slipping down outside of the chair.
Foldable travel booster seats for tables. These are a ubiquitous and trendy choice for travel high chairs as they are more versatile than clip-on ones and reasonably small when it comes to portability.
Interested in other types of baby high chairs options to choose from? Find out everything you need to need and pick the one that best suits your needs.
What features to look for when choosing a travel high chair?
Age-appropriate. Traveling high chairs and booster seats are for babies and toddlers who can sit unattended, but they have different age specs depending on style and material.
Size when closed. The whole point of a high travel chair is to be portable and nonintrusive while on the go.
Versatility. Check the shape of your chairs and tables first if you intend to use the high travel chair also during home.
Best Travel High Chair Options
The Summer Infant Deluxe Comfort Folding Booster Seat is a convenient, comfortable solution for eating in-home or on the go. The machine washable cover provides additional comfort and support for your little one.
The infant feeding seat with a tray and 3-point safety restraint system transforms into a toddler booster for use at the table. Chair straps are included to secure the booster to the chair.
The Deluxe Comfort Folding Booster Seat features 2-levels of height adjustment for your growing baby. The ultra-compact folding design allows for portability and storage.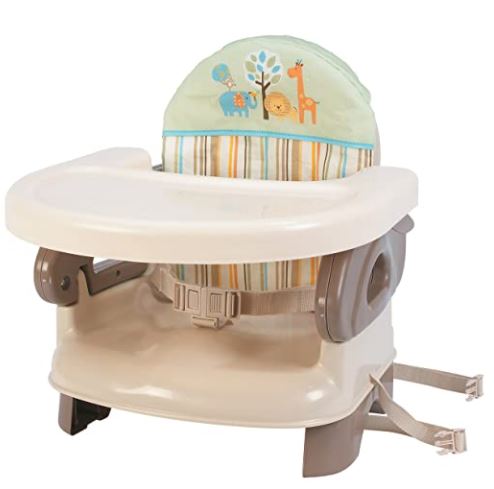 Features:
2-in-1 Feeding Seat
Height Adjustment
Compact Fold
Traveling is a breeze with this baby chair; the fold-flat closing system was designed for easy setup and hassle-free operation. The optional dining tray accessory features deep borders surrounding the eating surface to help keep food on the tray and snaps easily onto the Fast Table chair's arms.
This baby high chair will allow for a quick and easy mealtime, whether at home or on the go and includes an integrated travel-friendly carry bag.
Travel with legendary Inglesina style and fine Italian design, this table chair features simple twist-tight couplings and is compatible with most types of tables, and leaving them scratch-free. The Fast Table Chair is comfortable, too, featuring a lifted backrest, firm seat, and fabric-covered wide tubes.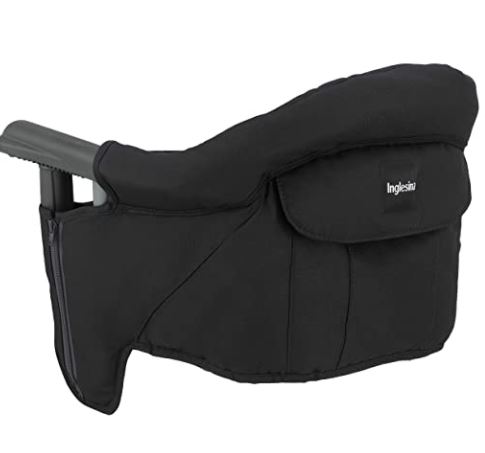 Features:
Collapsible
Easily washable
Included carry bag
The easy-go booster seat from Nuby is an ultra-light, compact portable Booster seat that's ideal for on-the-go families. The Easy Go Booster Seat is made to go where you and your little one go. The lightweight design conveniently collapses for travel.
Made of coated nylon, the durable easy-go booster seat features adjustable safety straps and a 3-point harness, ensuring your little one is safe and secure. Nuby always keeps safety and comfort in mind. The Easy Go Booster seat has removable foam padding for customizable comfort for your child.
The easy-go booster seat is stain-resistant and neatly folds together for easy cleaning and traveling. Made of durable, easy-to-maintain material. The water-resistant polyester wipes clean with ease.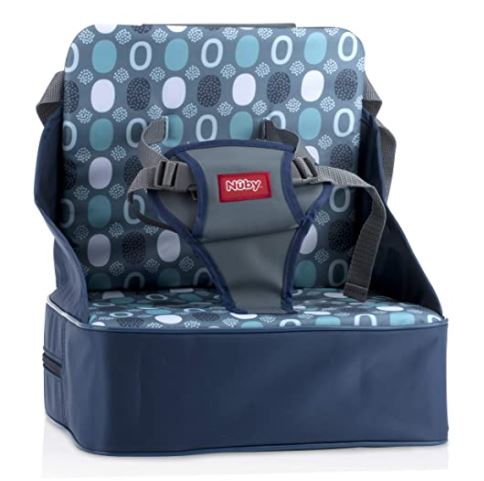 Features:
Adjustable straps
3-point harness
Durable
The Summer Pop' n Sit Portable Highchair is the perfect chair for your little one. Whether you need a high chair for dining at a restaurant, a chair at the park, or even a seat at home.
This highchair is your all-in-one solution. Use as an activity seat to entertain the baby or use as an elevated booster seat at the table. Cleanup is easy with the machine-washable fabric and the removable, BPA-free, and dishwasher-safe tray.
Featuring an innovative pop and fold design that sets up in seconds, a compact fold, and included carry bag, the Pop 'n Sit Portable Highchair is easy to bring with you on all your adventures, both indoors and outdoors.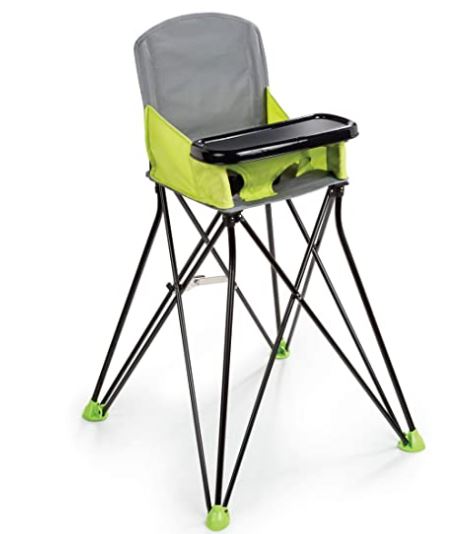 Features:
Compact fold
Easy cleanup
Sturdy
Planning a day at the beach, a weekend camping, a visit to Grandma's house, going out to dinner, or spending an evening at home? OmniBoost will conveniently, comfortably, and safely provide the perfect space for the baby to sit, eat, and play.
With folding frame pops open and compactly folds down for travel. The rear pocket for bibs and spoons, plus a shoulder carry bag for sanitary storage, make the Omniboost the ideal travel booster chair.
Keep your child fully secured with hiccapop's gentle restraint system, ergonomically designed to keep even the most wiggly toddler in place and cozy. Plus, the buckles are quickly released using only one hand.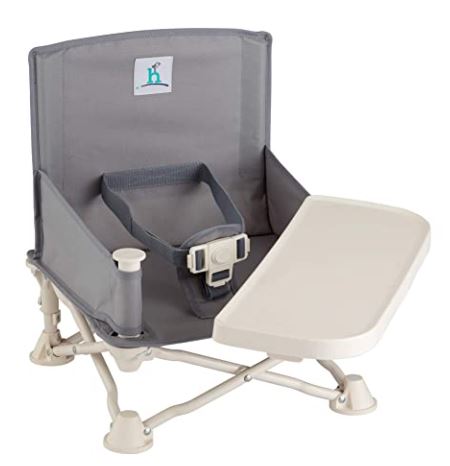 Features:
Comfort safety harness
Removable swivel tray
Travel friendly