If you are a parent who wishes to travel with your child, you may want to consider investing in a travel stroller. Travel strollers are much needed and convenient when you think about those exciting traveling plans you have with your child. So if you are looking for the best travel stroller, you are in the right place.
When thinking about your next family vacation and babies are involved in the mix, you'll find yourself in need of a travel stroller; these are pretty handy and lightweight, making them a fantastic option for traveling with children. A travel stroller really will make your child more comfortable when traveling, making your life easier and allowing you to enjoy your vacays.
However, it can get a bit challenging knowing where to begin and what to look for in a travel stroller in a sea of options. But don't panic; to help you in the right direction, we invite you to get to know some of the best travel strollers the market has to offer.
Best Travel Stroller FAQ's
What stroller is best for traveling?
Lightweight strollers that fold compactly and are easy to transport are umbrella strollers, making them ideal for travel or quick trips around town with your child. Many tested models have curved handles. These models are easy to fold, making stashing one in the trunk or taking it on an airplane, bus, or train a snap.
A basic lightweight umbrella stroller makes travel and storage easy, while high-function stroller systems boast helpful features like extra storage and snap-on bassinets or car seats. For some, a basic model for occasional use is perfectly suitable. For others, the splurge on a more advanced model is well worth it, even if it feels like a significant investment. If you frequently take the baby out and about or plan to have multiple kids, your stroller will likely get miles and years of use; some parents prefer their travel strollers to be lightweight, others like their baby strollers to be an all-terrain stroller.
What are the different types of strollers?
Full-sized stroller. If you're hoping to invest in one stroller that'll wheel your baby right through the toddler years, look no further than a full-size stroller. Bigger, sturdier, and usually more durable, these strollers are the standard option.
Lightweight or umbrella stroller. You might lose a few of the features you can find in a full-sized stroller, but an umbrella stroller scores points for being supremely easy to handle while on the go.
Jogging stroller. When you enjoy being literally on the run, a jogging stroller might be a good option. Jogging strollers typically have larger, sturdier wheels and better suspension to take bumps and alternate terrain in stride.
Double stroller. If you are the proud parent of twins or a toddler who's not ready to give up their stroller days, then a double stroller is the way to go. Doubles come in two formats: tandem, where one child sits behind the other, or side-by-side seating.
Car seat carrier. These wheeled frames are built to transform your infant car seat into a stroller in just a snap; some parents find them unnecessary, while others are pretty convenient.
Travel system. An easy-to-connect travel system pairs together an infant car seat and stroller. There are full-size, lightweight, and jogging stroller travel systems, so you can choose a system with the type of stroller you like best.
What kind of stroller can I take on a plane?
The lightweight or umbrella stroller offers several benefits; among them, we find that these models are easy to fold, making stashing one in the trunk or taking it on an airplane, bus, or train a snap.
Can you bring a stroller on an airplane?
When traveling with a child, you can bring a stroller, a baby basket carrier, or a child car seat free of charge as checked baggage. If you have a fully collapsible stroller, you can take this right to the aircraft door.
Strollers can be checked at the gate or with your regular checked baggage at the ticket counter. Each ticketed adult is permitted one stroller to be checked free of charge. Large strollers weighing 20 pounds or more must be checked at the ticket counter. All other smaller strollers can be checked at the gate.
Which travel stroller folds smallest?
With its exceptional design innovation, the lightweight gb Pockit is the world's smallest folding stroller. When folded, it is the smallest and most compact stroller currently available on the market, 12″ x 7″ x 20″ to be preciseThisis stroller folds into a compact, light handbag-shaped packa in only two stepsge, weighing under 12lbs. It is great for when you are on the move, and practical and easy to stow away when you're not. It even fits into any plane or train overhead compartment.
Suitable for parents with a passion for city travel and exploring. With the ability to switch from pushing to carrying in seconds, the Pockit is a travel stroller or simply visiting your favorite cafes.
Best Travel Stroller
A lightweight stroller makes any outing a little easier. The Summer 3Dlite Convenience Stroller has a durable aluminum frame that weighs just 13 pounds and has a large seat area, plus anti-shock front wheels and lockable rear wheels.
Whether you're traveling or just on the go running everyday errands, having a lightweight, the compact stroller is a must. With this one easy-to-use stroller, you'll have both an everyday and travel stroller option.
Keep your little one comfortable and safe at all times with the 4 position recline and 5 point safety harness. Plus, the adjustable and removable canopy with a flip-out sun visor is perfect for sunny days.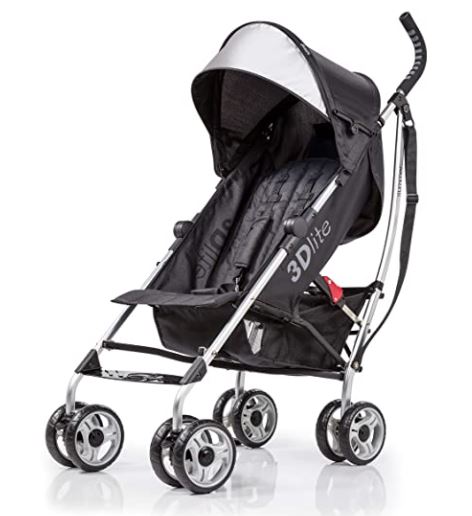 Features:
Lightweight
Aluminum
Extra storage
Considered the best stroller for car travel, the UPPAbaby G-LUXE stroller is great, whether running errands or catching the sights during naptime, your child can sleep comfortably in our one-handed reclining seat with an adjustable footrest.
Comes with hand-level triggers to make it easy to fold the G-LUXE with just your fingers, no foot action is required. Once folded it stands on its own, great for storing out of the way.
The convenient carry strap allows for easy transport. Comfortable and agile, the G-Luxe features a new one-action brake and lightweight aluminum frame with a new robust profile.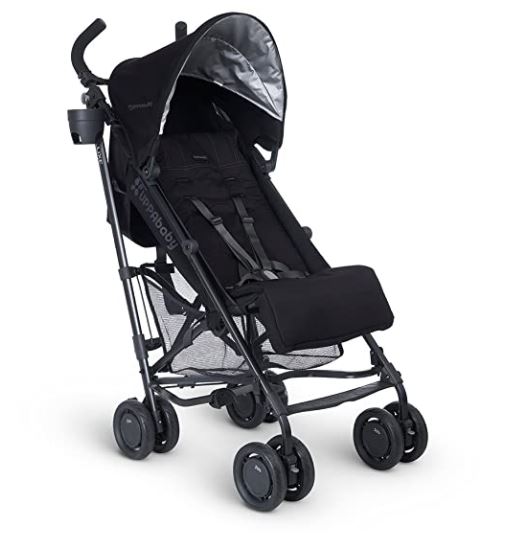 Features:
Lightweight aluminum frame
Easy open
4-wheel suspension
When on a budget, the Kolcraft Cloud Umbrella Stroller is for you. Take the kids out anytime with the Kolcraft Cloud Umbrella Stroller. This handy item makes it easy for parents to take their little ones out and about.
Both caretaker and child will appreciate features in the baby umbrella stroller, such as a fully extendable sun canopy and a rear hood to protect little heads from the elements, as well as the clever roll-up back pad.
The rolled pad on the Kolcraft umbrella stroller turns into a comfy headrest, so they can relax as well. It also has features such as shock-absorbing front swivel wheels, foam padded handles, and a cup holder for the adult. The one-step fold makes opening and closing fast and easy.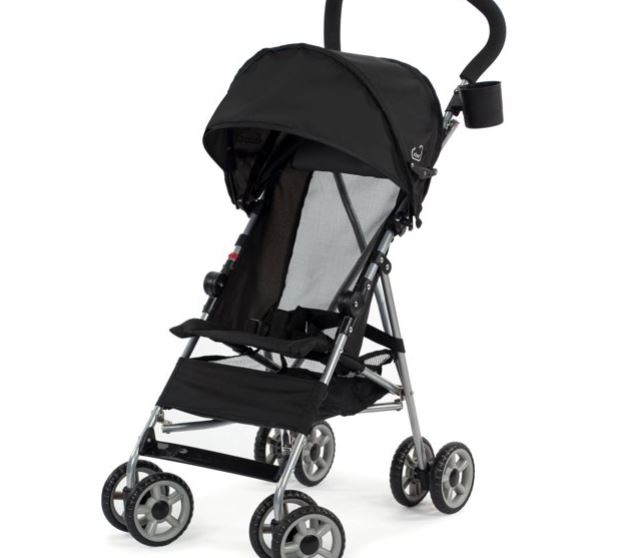 Features:
Children up to 40 lbs
3-point harness
Roll-up back pad
Storage basket
Considered the best for airplane travel, this Besrey Lightweight stroller offers an updated reclinable backrest for baby and toddler, bringing extra comfort and convenience.
This baby stroller comes with secure five-point safety belts, and it grows with your child. With a compact size for an airplane stroller, for traveling.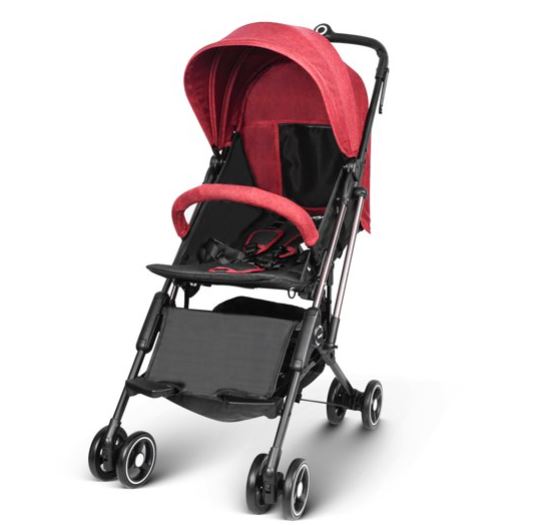 Features:
Lightweight
Secure
Adjustable harness system
Considered the best lightweight stroller; the revolutionary ultra-compact folding mechanism of the Pockit Air All-Terrain reduces the stroller into a handbag-shaped package in seconds and is airplane hand luggage compliant.
Weighing only 4.6 kg, the Pockit Air All-Terrain is the perfect travel companion. Its super-lightweight frame is easy to maneuver, lift and carry. Perfect for the city, on vacation, or just being on the go.
The backrest of the Pockit Air All-Terrain is designed with a breathable mesh fabric that provides comfort for your child even on hot days. Available as an accessory, a snug padded inlay can be added to the seat unit for additional warmth on cooler days.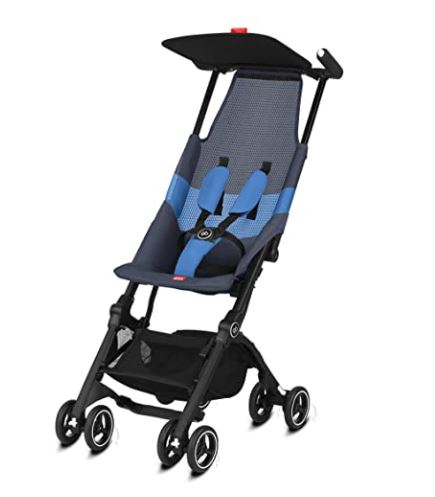 Features:
Hand luggage compliant
Breathable mesh fabric
Double wheels
Considered the best stroller when traveling with newborns, the Mountain Buggy Nano stroller is narrower and has a compact size. Nano is a game-changer for the world of nursery travel.
Mountain Buggy Nano is the ultimate travel companion that promises convenience, longevity, with first-class safety innovation. Weighing at just 13 pounds and with the ability to compact fold into its included travel bag, it fits into overhead luggage compartments for families who value ease and pure functionality.
The sophistication of Nano is that it also provides dual functionality to take your infant car seat with its built-in car seat adapter (no need to purchase extra accessories), and then perform as a super-compact, urban stroller for years to come – the desired item for today's busy, traveling modern families.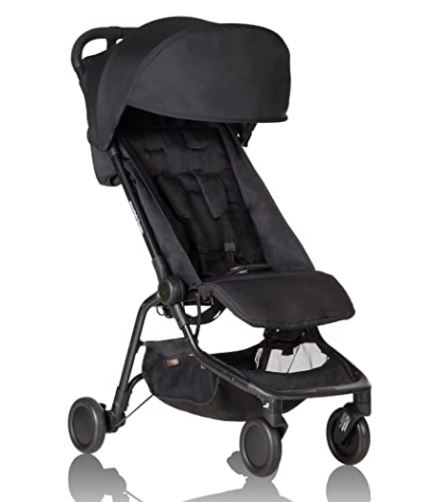 Features:
Easy fold-down system
Full-size seat
Large sun canopy
Shoulder strap