If you are a parent who wants to hit the trail, then you should consider getting an all-terrain stroller. The all-terrain stroller is a great choice right out of the gate for the athletic types or at least those trying to adopt a healthy lifestyle. If you can relate then you are in the right place because you'll be in need of the best all-terrain stroller money can buy for your little one.
If you are new to all-terrain strollers, you should know that these are important because all of the weight is carried by the stroller and only a small amount of effort is required to push it. This benefit only increases with time as children increase in size and weight, as you can expect little to no training is involved to get some miles with a stroller.
However, in a sea of options, it can get a little challenging knowing where to begin and what to look for in an all-terrain stroller. But don't worry, to help you in the right direction we invite you to get to know some of the best all-terrain strollers the market has to offer.
Best All Terrain Stroller FAQ's
What is an all terrain stroller?
An all-terrain stroller is child transportation designed to travel over as many different types of terrain as possible. All-terrain strollers easily transition from gravel to concrete to grass and can be pushed up and down hills, making them useful anywhere from inside a mall to outside on a trail.
All-terrain strollers are typically three-wheeled strollers or traditional strollers with larger, air-filled tires, and are intended to be used on a variety of surfaces, including mall floors, pavement, grass, or "off-road."
How to identify an all terrain stroller?
These strollers are easily distinguishable from a traditional stroller because of their 3 air-filled, oversized tires. These tires create a smoother ride for the child, regardless of location or activity. The front-wheel maneuvers freely, making it easy to turn corners or wind along a path.
What stroller is best on gravel?
This four-wheel double stroller is perfect if you have twins or siblings that both need a stroller. A quick fold system allows you to fold the stroller with one hand and the foam-padded seats recline almost all the way which would allow your child to nap peacefully.
The large canopy shields the sun and offers two peek-a-boo windows for you to check on your child. This stroller weighs 32.5 pounds.
This stroller is the essence of City Mini Double's urban mobility with some notable GT comfort upgrades including all-terrain wheels, an adjustable handlebar, hand-operated brake, and plush seats that hold up to 100 pounds total.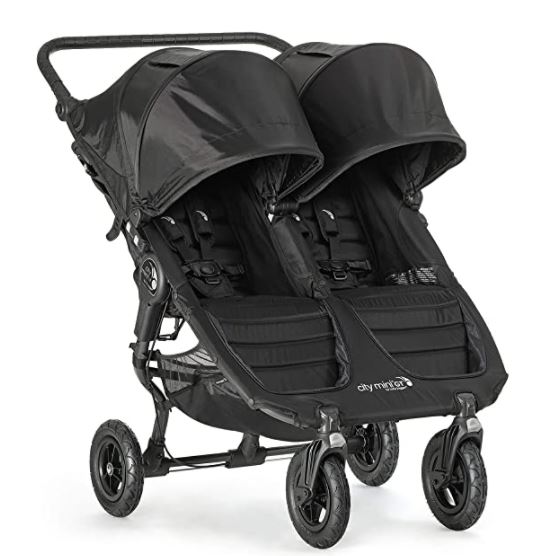 Pros:
This stroller has 8.5" all-terrain wheels that can handle rough terrain.
An adjustable handlebar allows the pusher to get a comfortable custom fit.
Cons:
A weight capacity means that your child will outgrow it sooner than other available strollers and you may have to purchase another stroller in the future.
The manufacturer states that this stroller should not be used for jogging.
What stroller is best for trails?
This stroller is great for trails, the beach, and bumpy roads. This can be hard to find in a stroller, which makes it very versatile.
Several customers posted pictures using their stroller at the beach, in the mountains, and on forest trails. A lightweight, all-terrain stroller perfect for jogging or strolling through town.
Swivel front wheel locks into place for jogging, large 16″ rear wheels plus suspension for an ultra-smooth ride.
One-handed, compact fold to easily store and transport and reclining seat with padded 5-point harness and ventilation.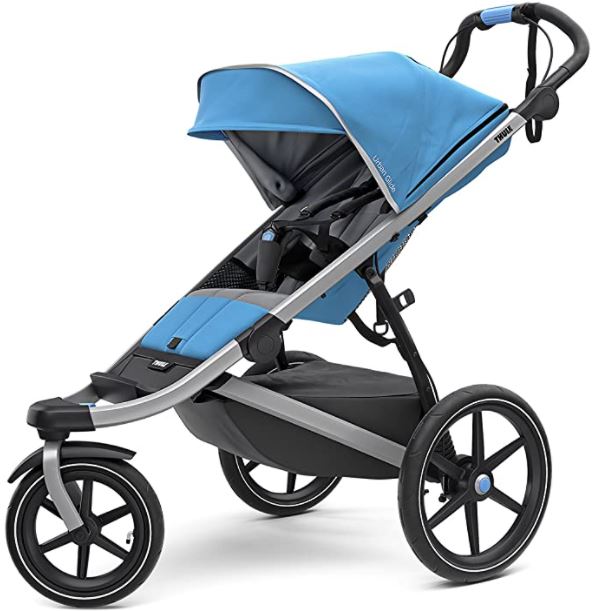 Pros:
Easy to push
Collapsible and easy to remove back wheels
Cons:
Can UPPAbab go on gravel?
Strollers with versatile wheels include UPPAbaby VISTA, considered for everyday strollers that can handle grass and gravel in parks, hard-packed dirt roads, and cracked pavement very well.
How to choose an all terrain stroller?
Safety. Your stroller should be equipped with a 5-point harness, a parking brake, and a tether.
Front-wheel lock. All-terrain strollers move well because they do not have a fixed front wheel.
Tires. The ideal tires are oversized and air-filled with big tread. They are easily removable for a quick change on the trail.
Handling. A good hiking stroller is still easily maneuverable with one hand, allowing your free hand to grab water or a snack.
Handlebars. Adjustable handlebars offer different settings for drivers of different heights and make it easy to transfer control of the stroller.
Car Seat Compatibility. Instead of purchasing a hiking stroller as a stand-alone item, consider purchasing a travel system. Look for strollers that offer adapters that can work with your infant car seat.
Storage Size. Most all-terrain strollers take up quite a bit of space. Prior to purchase, measure both your trunk and your home to ensure the folded-up version will fit in both places.
Canopy. Look for an adjustable canopy that can withstand UV rays and weather. The greater the size of the canopy, the more protection for your child.
Weight Limit. Children grow quickly and all-terrain strollers can be a hefty investment. Maximize your stroller lifespan by checking the maximum capacity for your child.
Storage Capacity. Gear multiplies with children in tow. Avoid carrying your gear on your back by looking for big storage compartments under the seat.
What are the different types of strollers?
The main types include:
Full-sized umbrella stroller
Jogging stroller
Lightweight stroller
All-terrain stroller
Is there a difference between an all-terrain, hiking, or jogging stroller?
trollers are all interchangeable, the intent for use is the same. The main differences between a jogging stroller and an all-terrain stroller are the fixed front wheel and the hand brake. Traditional jogging strollers have a hand brake, for those moments when a more abrupt stop is required.
Traditional jogging strollers also have a fixed front wheel. This locked wheel creates stability for the passenger so the driver can pick up speed. However, jogging parents must lift the front wheel off the ground to take a corner.
What's the main difference between a regular and an all-terrain stroller?
The main differences between a regular and an all-terrain stroller are that standard strollers have: 4 plastic wheels, no suspension system, limited terrain capabilities, lower weight capacity, limited or no sun canopy, lightweight and compact, lower price point. The regular stroller is great for the person who has no athletic intentions for its use.
What's good about an all-terrain stroller?
In addition to carrying the majority of the weight of your child, your stroller can also carry your gear. All-terrain strollers come equipped with storage areas underneath the child. Finally, when you get tired of pushing the stroller, it is very simple to trade off with a partner.
There are several options when it comes to baby strollers as as matter of fact perhaps way too many, it depends on your lifestyle and other special needs, to help with that task, we also prepared a review on different types of baby strollers.
Best AllTerrain Stroller Options
With the BOB revolution flex 3.0, you can say yes to any type of family outing-whether prepping for a 10K or heading out for a day at the zoo.
The suspension system keeps you running smoothly and the adjustable handlebar fits parents of all heights. The seat is designed with compression padding for all-day comfort and sits fully upright so your little rider can take in the world.
The extra-large UPF 50+ canopy shields from the sun and includes a magnetic "peek & chat" Window so you can check on and chat with your child along the way.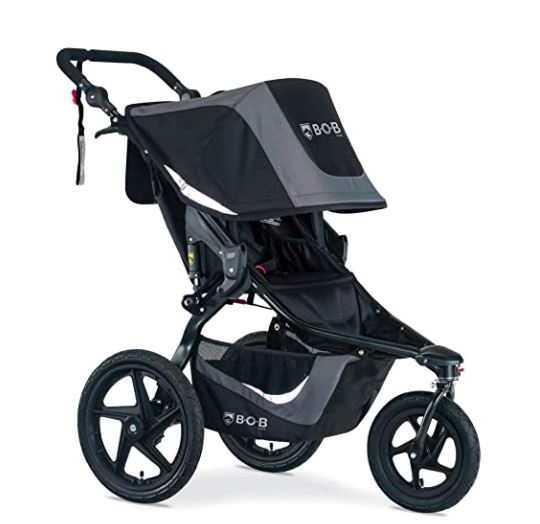 Features:
Cargo basket
Adjustable handlebar
Suspension system
The expedition jogging stroller features large bicycle tires and a front swivel wheel that can be unlocked for low-speed maneuvering or locked into place for jogging.
Stroller also can accept any of the baby trend flex-lock or inertia infant car seats to make a travel system, comes with both a parent tray with 2 cup holders and a storage compartment and child tray with cup holder.
The multi-position reclining padded seat has a fully adjustable 5 point safety harness and tether strap, and a fully adjustable ratcheting canopy to block the sun and wind.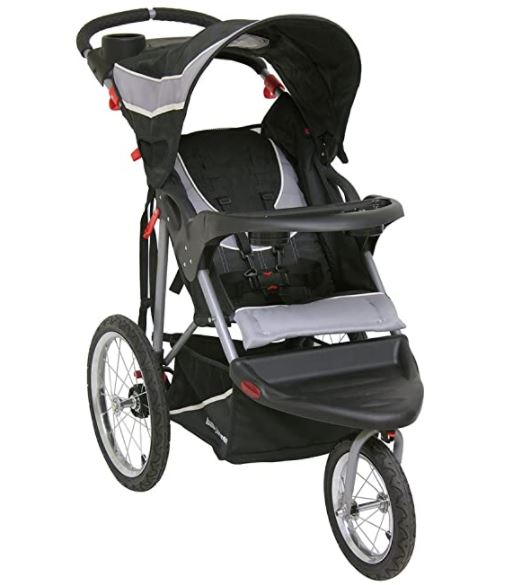 Features:
Reclining seat
5 Point harness
Easy maneuvering
Graco FastAction Fold Jogging Stroller is the ultimate crossover stroller, combining all the comfort and convenience features of a traditional stroller with the performance and maneuverability of an all-terrain jogger.
This stroller is loaded with innovative features like the one-second, one-hand FastAction fold bringing the ultimate convenience to a jogger.
Click Connect technology allows for a one-step, secure connection of infant car seat to stroller. One-second, one-hand fold has an automatic storage lock and is self-standing when folded.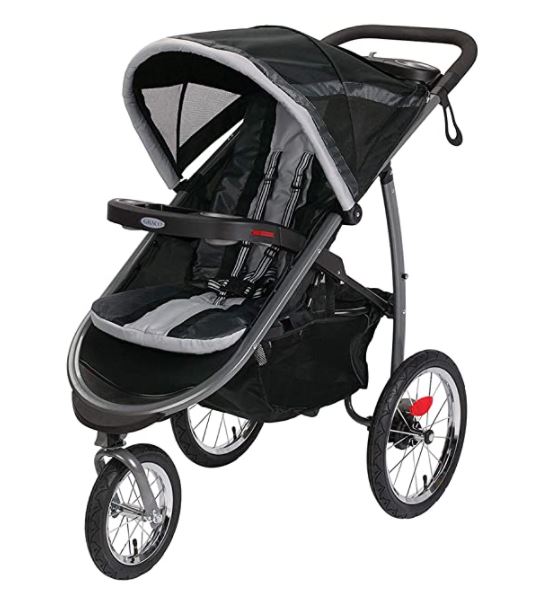 Features:
3-wheel stroller
Air-filled rubber tires
Automatic storage lock
Additional Tips on All Terrain Stroller
Make sure that the front wheel is not fixed into place. You need a front wheel that can move freely over the terrain you will encounter on the trail.
You also want big tires filled with air because they create a smoother ride and can better handle the bumps of a trail.
Consider how any potential strollers protect your child via harnesses, parking brakes, and UV-resistant canopies.
Think about how you will transport the stroller and where you will store it. Decide if the ability to fold it up quickly and store it standing up are important requirements.
Consider the lifespan of the stroller. Look for units that offer a higher weight capacity so that you can use your stroller longer.