Are you the proud parent of twins? Then a twin baby carrier should be in your vocabulary. When you have twins, baby carriers become much-needed items. Most twins' parents find them helpful when you have both arms occupied, then you are left with no room for anything else. So, if you are currently in the search for the best twin baby carrier, just keep on reading.
Imagine having to wash the dishes or push a shopping cart with two babies in your arms; pretty much an impossible task? Here is where a baby carrier comes to save the day; giving you the freedom you need to do what you have to do, all while literally carrying your little ones along.
As you can tell by now, baby carriers are items that you will want to look into at some point, even if you are a parent of one. With so many on the market, how do you know which ones are best for you and your little ones? Get to know about the best twin carrier and more useful information.
Best Twin Baby Carrier FAQ's
Is there a twin baby carrier?
You bet there is. Many carriers are intended for newborn use. It is always a good idea to shop around and see which would be best for your needs and the size of your baby. Some twin baby carriers are good for babies as small as 4 pounds but many are designed for 7 or 8 pounds and up.
Can you wear 2 baby carriers at once?
Tandem babywearing" refers to the practice of wearing two babies at the same time. Tandem babywearing is a great option for twins, but it's just as useful for carrying babies of different ages at the same time. In tandem babywearing, you can use a single carrier or two carriers.
Can you babywear twins?
It's totally possible to carry both your babies at the same time with the help of a wrap, ring sling, or specially designed twin carrier.
How do you carry both twins?
Two babies can also be worn in a single wrap on the front and back. If your children are two different ages/sizes, you will likely find it most convenient to have the older baby or toddler on your back and it's a good idea to secure the back carry with a knot before adding the front carry passes so that the heavier child's weight does not pull the wrap too tight around the smaller baby.
Any wrap carries that has rucksack straps and ties a the waist can be finished with a Tibetan finish that creates a cross for the second baby to sit in. Or a carry with Rucksack straps that would usually be tied at the shoulder can also be done with a front cross variation to add room for a baby.
Often, wearing two is most convenient in two separate wraps because this way you can take one baby down without disturbing the other so you can switch from wrapping one to wrapping two seamlessly throughout your day as your needs.
What to look for in the best twin baby carrier?
Ergonomic design. The carrier should be ergonomically designed. This is important for your comfort and the safety of your babies. A well-designed carrier will help prevent back problems, shoulder pain, and neck strain.
Ease of use. Parents of twins want a carrier for twins that is easy to use. With all of the other twins' gear you need to carry, there is no reason you should be struggling with your carrier just because it has too many features or it's complicated to use in a pinch.
Materials. Some carriers feature heavy-duty nylon, while others have a breathable mesh. Some are better for summertime and some are made for winter. Analyze your everyday lifestyle and the weather in your area before purchasing a carrier.
Price. A twin baby carrier can set you back anywhere from 100 bucks for more basic designs to over $300. The most important thing is that it's something that you and your babies will love so don't skimp on quality too much.
Simple cleaning. You'll need to clean your baby carriers regularly, so look for one that you can throw in the washing machine and spot clean.
Baby safety. Safety is always a top priority when choosing a twin baby carrier. Look for carriers with structured waist belts and hip support to minimize the risk of your babies slipping through the carrier. Since you'll be wearing this while doing daily activities, look for padded shoulder straps and breathable fabrics that will make it comfortable for you to wear as well. If your twins are newborns, you may also want to check into infant inserts, depending on the carrier for added safety and comfort.
Adjustability. You'll want to look for carriers that have adjustable seat sizes and can be adjusted to focus on each of your baby's individual needs.
Best Twin Baby Carrier
The Boba Wrap is the original stretchy baby carrier designed by the founders of Boba to hold their babies close, enable bonding, breastfeeding, and healthy development every step of the way.
This wrap can hold babies from newborn up to 35 lbs. It is machine washable and one size fits all. Easy to tie and easy to breastfeed in.
It even acts as a privacy shield for nursing moms because you can nurse while wearing it, without taking your baby out of the wrap.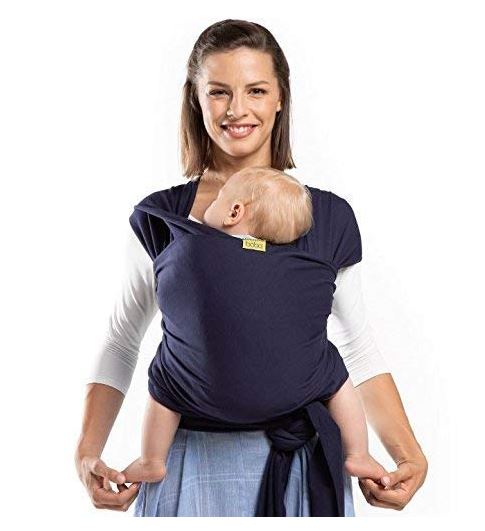 Features:
Machine wash and dry
Stretchy and soft
Ergonomic
Weego baby carriers are free from harmful and allergenic substances. All fabrics in this product are manufactured and approved in accordance with Oeko-Tex Standard 100, Class 1 for baby products.
This twin carrier is easy to machine wash at low temperatures. Wash separately with a gentle, bleach-free detergent and low spin cycle after closing all Velcro and buckles.
It can be tumble-dried at low temperatures. The bibs can be machine washed and dried at high temperatures. The Weego TWIN Baby Carrier can be used from birth on – starting at a weight of the babies of 4 lbs/1,800g each.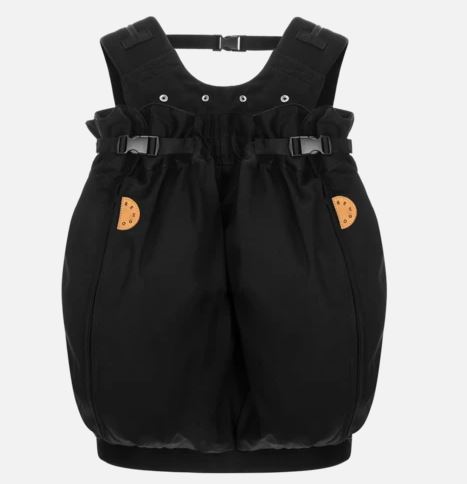 Features:
Twins from birth
Easy to use
Unique double-pouch construction
The Twin Trexx 2 allows mom and dad to comfortably wear both children in front, one child in front and one in back, or in other comfortable positions.
The Twin Trexx 2 was designed to be hassle-free and its unique front buckle feature allows mom and dad to easily insert and remove the children from the carrier.
Can be worn in 5 different positions. A wider base makes it more comfortable for your twins to sit. Fewer buckles make it even easier to put on and take off.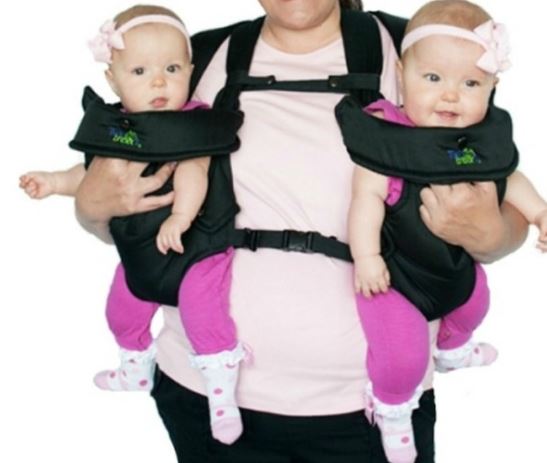 Features:
Sturdy
Locking buckles
Wearable in 5 comfortable positions
Babies are held in an ergonomic position, one leg to either side of each of your hips, sitting comfortably on the arches of your pelvis.
As the babies are held on your hips, it can make getting through doors a little difficult, unless you turn to your side. Thankfully for the babies and you, the carrier exterior is 50 percent cotton and the other 50 percent is linen, so it is soft, comfortable, and breathable.
Although being adjustable, the length of each line can only go up to 80 inches. The carrier is suitable for newborn use and can carry up to 60 pounds combined weight.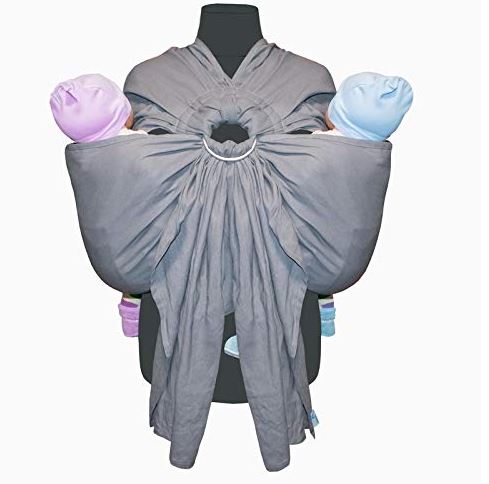 Features:
Linen, Cotton
Ergonomic M-position
Can be used from birth
The secret to the TwinGo Carrier is in the innovative waistband. Getting a snug fit in the waistband will allow you to easily and comfortably carry the weight of 1-2 babies on your hips (not your shoulders).
TwinGo Carriers offers you a customizable waistband to fit petite to extra large sizes. To adjust the waistband smaller, simply unthread the waist straps and overlap or fold in the padded waist flaps.
Wear your TwinGo as a double-child carrier or divide it into two single-child carriers to share the love. Fits great on both men and women.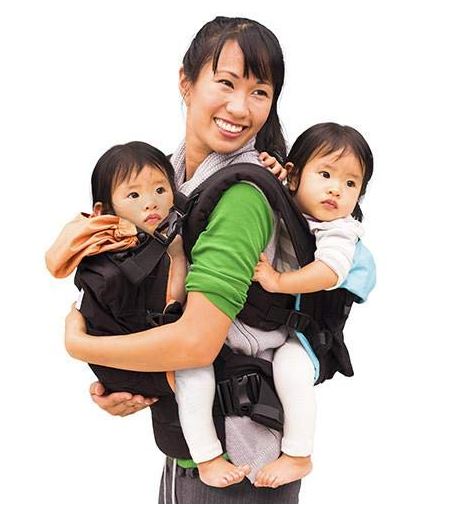 Features:
Shoulder Strap
Adjustable Strap
Open-wide legged position