Dustin Maher's book Fit Moms for Life isn't like most self-help books. Many that you pick up relating to health tell you what you need to do to, and how to do it. They don't really connect with you as a reader, and are pretty cut-and-dry. Fit Moms for Life is for the mothers out there who aren't all the same. Wait, that's all of them… right? Not every person is the same, we don't all have the same energy level and we don't all have the same goals. Some might have weight loss goals, some may just want to feel healthy. I'm in it for the latter. I know that loosing weight won't be the thing that makes me feel better. Someone can weigh less than I do now, but feel uncomfortable in their skin. I feel uncomfortable in my skin. There, I said it. The thing I didn't want many people to know. I've talked with my mom, Nuderma, and B about it. But… well I'm not sure. I want to be able to keep up with my kids in the future, I want to feel healthy when I begin teaching. It's always so easy to say "Next week/month or tomorrow I will begin." That's not the way it should be. I have a friend who has been working on getting healthy and fit. Maria from Agape Love Designs & Photography, and she is doing fantastic! Shout out to you, pretty lady!

     One chapter I read in Dustin's 196 page book that really made me want to do better was chapter 10. "Fit Mom, Fit Family." How is a mother supposed to show her children a good example of a fit and healthy life, if they don't live that way themselves? It is so easy to go out to eat, grab "quick" meals, and to buy unhealthy snacks for those times when you just don't have the time to prepare a healthy one instead. If kids don't see their parents eating fruits and vegetables, who are we to tell them to choose those over sugary-not-so-good-for-us alternatives? I like that Dustin mentions that even though he isn't a parent himself, he has seen his program prove successful in his own family and in his clients lives.
You may even be wondering how some Dustin even wrote a book for mothers when he isn't even a parent. Well, he is very close with his mom. As an oldest child of four kids, he grew up seeing his mother put her children first. He says that he sees so many moms who are overworked and often under-appreciated. He loves that he is helping influence the next generations by working with their mothers. Dustin's mission is simple really, "reach one million moms by the end of 2015 with the support they need to change their mindset, eat better, exercise effectively, and be part of fit families and communities so they can transform their bodies and their lives."
Throughout the book Dustin shares stories about every-day mothers who have found success with his program. He provides workouts for mothers of all fitness levels, and sample recipes to help kick start you reaching your goals. Not only are their recipes but there is plenty of information about viewing your food as a source of fuel for your body, rather than just something you need to survive. I also like that Dustin's book provides prompts such as 10-Year Plan Exercise. "Write out your negative vision of your life 10 years from now if you continue with your negative habits:" then following that question "Write out your positive vision of your life 10 years from now if you make this transformation:" This really lead me to keeping a food journal and writing not only what I eat, but how full I felt before, and after completing a meal. All of my information is on one notebook sitting near our bed. I know there are nights I can't sleep, so I read up on different things in Dustin's books and write in my food journal.
What is my goal exactly? By May of 2013, I would absolutely love to be eating healthier. I would like to be able to be completely active for one hour each day without getting tired or winded. Ideally, I would be 40+ pounds lighter. And with Dustin's book, I'm surely on my way to that goal. If you would like to be a "fit mom for life" or know someone who would like to be, enter for your chance below to win Dustin Maher's book.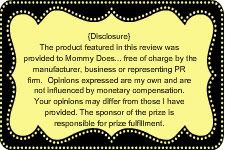 Sponsor: Dustin Maher